Blogs I follow
Miss West @ Wirreanda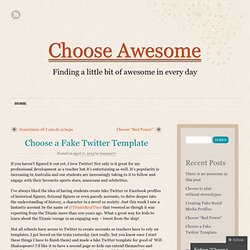 If you haven't figured it out yet, I love Twitter! Not only is it great for my professional development as a teacher but it's entertaining as well.
Choose a Fake Twitter Template | Choose Awesome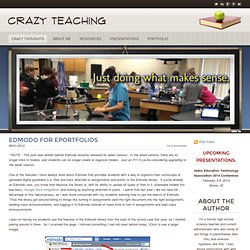 Edmodo for ePortfolios
**NOTE: This post was written before Edmodo recently released its latest version.
Omnipotent Particle Theory: habits of Mind
I have reasonable content skills. I teach four subjects and I can safely say I'm not an expert in all of them (which doesn't surprise people and yet we expect our kids to get there - before they turn 14, if they wouldn't mind! Slackers!).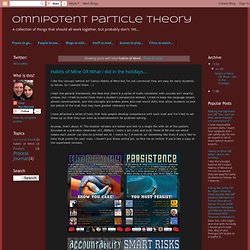 The Classroom Carousel: About This Blog
Coffee and brunch at Cream | Nouveau Potato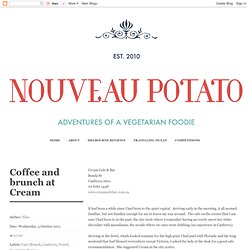 Cream Cafe & Bar Bunda St Canberra 2601 02 6162 1448www.creamcafebar.com.au It had been a while since I had been to the quiet capital. Arriving early in the morning, it all seemed familiar, but not familiar enough for me to know my way around.
Online teacher development has arrived, and the sooner you take advantage of what it has to offer, the sooner you'll begin to see great things: your teaching satisfaction will grow, your student's motivation will increase, and your whole teaching world will open up to unlimited opportunities for further growth. As teachers, we all work in the learning business. We often tell our students that the best way to learn is to study hard, practice a lot, and make necessary adjustments along the way. This is very good advice for teachers as well. And, just like our students, there are two basic approaches we can take in own professional development: learning by ourselves or learning with others. Learning by yourself The first way is to take charge of your own learning and hope you have enough skills to teach yourself all that you need to know.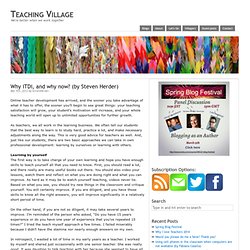 Why iTDi, and why now?
The highlighter role | 4C in ELT
Yes, I was supposed to present my three-minutes this morning at the #TeachMeet International, but because of technical difficulties in logging in, I decided to go back to bed instead of fooling around with it any longer. I promised to record my presentation on The Highlighter Role of Academic Reading Circles (ARC) in lieu. Here we are (though I doubt I squished it into 3 minutes). Other ARC posts: Collocations sites referred to: Like this: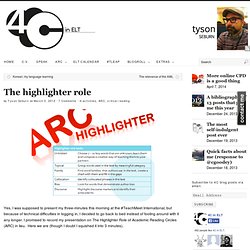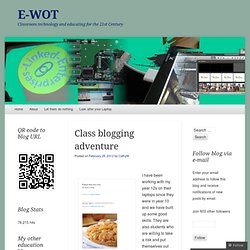 french blog I have been working with my year 12s on their laptops since they were in year 10 and we have built up some good skills. They are also students who are willing to take a risk and put themselves out there to learn. They are in the combined year 11 and 12 class I have for French and as I have blogged before I am trying to find ways of making good use of our time and ways to help them learn more effectively given I have two year levels and two different courses in one room.
Class blogging adventure « E-WOT
Teaching My Calling: Social Media in the Classroom
artprintmedia