starters
Get flash to fully experience Pearltrees
It all started with a book. A whimsically illustrated French children's book about cooking, called La cuisine est un jeu d'enfants ,
Eggs Benedict: a great way to start the morning after. Photo by Donna Turner Ruhlman This eggs Benedict post has new recipes for Hollandaise sauce and sourdough English muffins but I have to begin with the angry comment on my Tomato Sauce post .
A great way to poach an egg / Photos by Donna Turner Ruhlman A couple years ago, nosing around in McGee's On Food and Cooking , I came across his suggestion that one could make neater poached eggs by getting rid of the liquidy, flyaway whites before poaching. And it works! (There's really no point in adding acid to the water.) Regrettably, I left my good perforated spoon at a Macy's demo and was left a generic slotted spoon with a shallow bowl and the egg always wanted to jump out. So when my friend Mac suggested we make some kitchen tools, a great perforated spoon was high on the list.
Whenever I hear the word soufflé, I'm imagining fat French chefs with white, tall, pleated hats running around in a busy restaurant kitchen, shouting to each other while trying to cautiously carry a soufflé dish that has just been taken out of the oven. Or other times, I'm imagining an elegant French woman in a Parisian apartment kitchen, waiting patiently right next to her oven for the soufflé to rise while reading French Vogue, with a cigarette dangling from her red colored lips. Well, that's just me; I like to visualize and make up stories about the people who might cook and eat certain types of food or dishes. Admittedly, some of those images are stereotypical but hey, when I think of souvlaki, I can't imagine anything other than a handsome Greek, virile man standing outside a souvlaki joint, getting all greasy while devouring a couple of them.
As it turns out, I'm a sucker for a good meatball.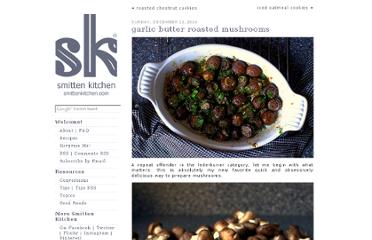 A repeat offender in the lede-burier category, let me begin with what matters: this is absolutely my new favorite quick and obsessively delicious way to prepare mushrooms.
Home >> Recipes These bloated crispy cheese balloons are so successful at parties you can't bake them fast enough. See how easy they are to make. Gougères [goozhair] 80gr butter 80gr flour 3 eggs 200ml water 40-100gr quality Gruyère or Comté cheese A pinch of salt 1 garlic clove (optional) Gougères [goozhair] are savory pastries from Burgundy (France), traditionally made with Gruyère , the king of Swiss cheeses. For the French to use imported cheese is praise from Caesar indeed.
This popular recipe is another reason to keep a package of puff pastry in your freezer and a block of Parmigiano on hand. Makes about 24 12-inch straws. 1 package frozen puff pastry, defrosted 1 cup grated Parmigiano-Reggiano 1 egg 1 tablespoon water Freshly ground pepper Tip: Either Pepperidge Farms -- which is easy to find at the supermarket -- or the more expensive but flavorful Dufour are both good choices for frozen puff pastry. Tip: Try to plan ahead and transfer a sheet of the frozen puff pastry from your freezer to your refrigerator the night before you plan to make these and the dough will have defrosted perfectly. Preheat the oven to 375º F.
Guests won't be able to resist these crunchy and gooey hors d'oeuvres and will be delighted to find melted cheese at the center of this treat. Why Try? Everyone loves meatballs—these risotto balls will make an excellent counterpart to them at your holiday party. Foodie Byte: Most of the work can be done a day in advance.