MonZtaFans
Lady Gaga. Lady GaGa. Lady Gaga. Lady gaga. LADY GAGA SOURCE | VOTRE SOURCE FRANÇAISE SUR LADY GAGA. Lady Gaga's Little Japanese Monsters - Pictures! On Saturday April 17th 2010, Lady Gaga played the first of two sold-out shows at Tokyo's Yokohama Arena.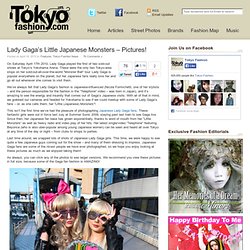 These were the only two Tokyo-area stops on her sold-out-all-over-the-world "Monster Ball" tour. Lady Gaga is popular everywhere on the planet, but her Japanese fans really love her and go all out whenever she comes to visit them. We've always felt that Lady Gaga's fashion is Japanese-influenced (Nicola Formichetti, one of her stylists – and the person responsible for the fashion in the "Telephone" video – was born in Japan), and it's amazing to see the energy and insanity that comes out of Gaga's Japanese visits. With all of that in mind, we grabbed our cameras and headed for Yokohama to see if we could meetup with some of Lady Gaga's fans – or, as she calls them, her "Little (Japanese) Monsters"!
Lady GaGa News – Born This Way now available EVERYWHERE! Just Gaga – Tu mayor fuente información sobre Lady Gaga. DreamOfGaGa.com|Uniting Little Monsters Since 2010-Giving You The #1 Lady GaGa Dose-Lets All Dream Of Our Mother Monster. Lady Gaga | The Edge of Glory. Default. Lady Gaga site|GagaLady.net - Najväčšia slovenská fanstránka. Lady Gaga. HeidiElizabeth. Lady Gaga. Lady gaga. Lady gaga. Gaga Daily – Born This Way out now! Lipstick Alley - Lady Gaga. Lady Gaga. Lady Gaga.
Lady Gaga. LADY GAGA. Lady Gaga. Gaga. Lady gaga.
---