MonZta Ecologie
China to Double Solar Power Capacity by End of 2011 (+ Top Solar Power Stories) Clean Power Published on August 16th, 2011 | by Zachary Shahan Nicholas just wrote about China's solar power dreams and it's new feed-in tariff for solar yesterday.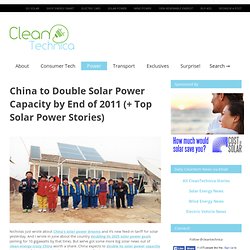 And I wrote in June about the country doubling its 2025 solar power goals (aiming for 10 gigawatts by that time). But we've got some more big solar news out of clean-energy-crazy China worth a share. Single, key gene discovery could streamline production of biofuels. A team of researchers at the Department of Energy's BioEnergy Science Center (BESC) have pinpointed the exact, single gene that controls ethanol production capacity in a microorganism.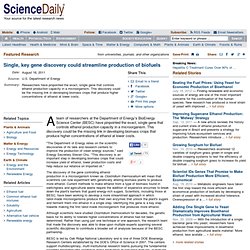 This discovery could be the missing link in developing biomass crops that produce higher concentrations of ethanol at lower costs. "The Department of Energy relies on the scientific discoveries of its labs and research centers to improve the production of clean energy sources," said Energy Secretary Steven Chu. "This discovery is an important step in developing biomass crops that could increase yield of ethanol, lower production costs and help reduce our reliance on imported oil. " Wind Cube: A Clever Design for a Personal Wind Farm Right on Your Own Home. Chen Liao Hsun has been envisioning a future of renewable energy that individuals can use right at home.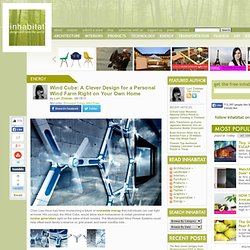 His concept, the Wind Cube, would allow each homeowner to install personal wind turbine generators right on the sides of their houses. The Modularized Wind Power Systems could help offset each family's reliance on grid power, and lower monthly bills. Wind Cubes can be installed alone or in groups, easily connecting with other units to create a honeycomb tile pattern. Do WA's High-Performance Buildings Perform? | Energy: Strategies, Policy & Best Practices for the Northwest. Washington Legislature report on high performance buildings You may recall when the 2005 Washington State Legislature established high performance requirements for public buildings.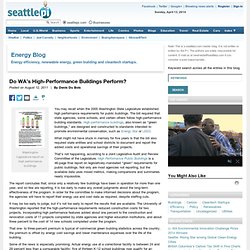 The bill required that state agencies, some schools, and certain others follow high-performance building standards. High-performance buildings, also known as "green buildings," are designed and constructed to standards intended to promote environmental conservation, such as Energy Star or LEED. What might not have stuck in memory for five years is that the bill also required state entities and school districts to document and report the added costs and operational savings of their projects.
That's not happening, according to a Joint Legislative Audit and Review Committee of the Legislature. Germans Encouraged to Roof Carports with Solar Panels. Clean Power Published on August 13th, 2011 | by Charis Michelsen Carports and garages are both perfectly serviceable structures to protect your car.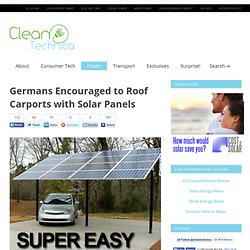 We're talking about carports here, though, so we're just going to mention that they're cheap, easy to build, and have great air circulation. There's one more advantage to a German carport – it's incredibly simple to roof it over with solar panels and let solar energy pay for the carport. Bringing Birds Back to Regrowing Forests: Scientific American Podcast. The Amazon rainforest near Manaus in Brazil was almost completely cleared decades ago for cattle grazing.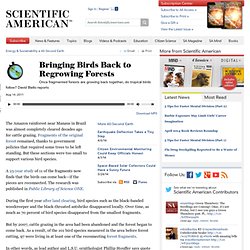 Fragments of the original forest remained, thanks to government policies that required some trees to be left standing. But these sections were too small to support various bird species. Green Living. Nucléaire. Les dissimulations de Tecpco. Suivre Fukushima.
NUCLEAIRE
Think Tank -- Laboratoire d'idées. Greenpeace : A lire avant... Greenpeace. Mode éthique. A. Leather or Not? 5 Cool Leather Alternatives That Make Avoiding the Real Stuff Easy - Planet Green. Ecolo + Cuisine + Bio. Charity business/ Earth conservation.
---