Lady Gaga Internet MonZta
Fall Fashion Thrift Guide | Organic Knits and Accessories | neerg | Go Green
Another fashionable post from our friends at Chic Vegan . Trends can be frustrating. In this dynamic time we live, things change so quickly that it seems we can never truly be in style, or have the best technology, or know everything.
Lady Gaga Photo Gallery | The largest archive with more than 26.000 Photos: Click image to close this window
Welcome home, little monsters. This is for us. LittleMonsters.com is a place for all monsters to gather, to create, to share, and to inspire. Remember, it's up to us to keep LittleMonsters.com a safe and accepting space for everyone, so please... Be brave. Dare to create and share your art with the world.
Little Monsters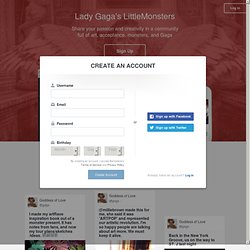 From Stefani Germonatta...to LADY GAGA - *A Tribute*
Lady Gaga's 'Yoü And I' Video: A Pop-Culture Cheat Sheet
After toned things down for her "Edge of Glory" video, she returned to her usual decadent self for the "Yoü and I" clip, a candy-colored sci-fi love story, in which Gaga takes on many shapes (mermaid, sprite, man) and lovers (mad scientist, Jo Calderone) to end up with her version of a fairy-tale ending. The video — which makes its TV premiere tonight at 7:49 p.m. ET/PT on MTV and Logo, followed by a live Q&A with Gaga on MTV.com — is a nonstop feast for the eyes that recalls many of pop culture's greatest tales. Part creepy and part romantic, the Laurieann Gibson-directed video is a fable about what happens when someone tries to create the perfect lover. Can one ever settle on what they are looking for in that special someone, be they fallen angel or mermaid?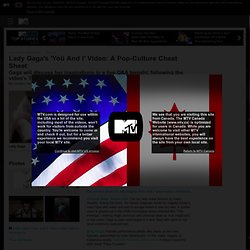 HAUS OF Ü feat. NYMPH
HAUS OF Ü ft. BRIDE
HAUS OF Ü ft. YÜYI
The-Fame.org - The Fame Gallery - Lady Gaga Pictures
Nebraska Inondations 2011