Wish List
Ludwig Mies van der Rohe and Lilly Reich elevated the chair and ottoman, creating a design that was a sculptural piece of art that served a practical function. The Barcelona Chair and Ottoman, also known as the Spanish Pavilion Chair and Ottoman, are perhaps the most well-recognized pieces in the collection. Originally intended for the German exhibition at the International Exposition of 1929, the Barcelona style is now a symbol for upscale modernity. True to the original, this embodiment of the Barcelona Chair and Ottoman design is handcrafted from genuine full grain European aniline leather, and premium solid bar stainless steel frames. Over 80 years have passed since Mies brought his creation to life, yet we continue to revere his name by honoring the high quality craftsmanship of his original. There are no corner seams on this reproduction - both items are encased in a full piece of leather, ensuring superiority and durability.
Barcelona Style Chair & Ottoman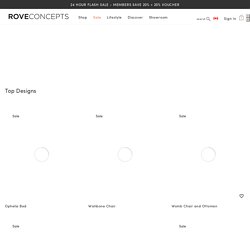 Dot Grid Journal - Creatives Outfitter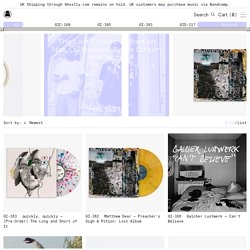 "Action Method" products were inspired by Behance's research of especially productive teams in the creative industry. Hundreds of individuals and teams were interviewed, and Behance chronicled the work habits and best practices of creative leaders. The paper products were initially designed by and for the Behance team as a way to stay organized. In 2007, at the insistence of friends who wanted Action Pads of their own, we expanded the line and made it available online and through select stores like the Museum of Modern Art in San Francisco.
Scroll Down To View Options PlushVelvet™ Fabrics Apple PlushVelvet™ cut by the yard Bayoux PlushVelvet™ cut by the yard Black PlushVelvet™ cut by the yard
EXHIBITION chair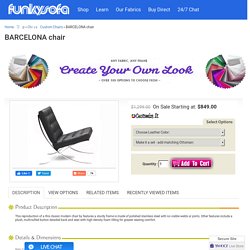 Don't be a MUG! Look like the boss when you're drinkin' your brew! These large porcelain mug's with blinging metallic knuckle duster shaped handles will ensure nobody messes with your tea or coffee. These white & gold and black & silver MUG!'s will ensure you get a good strong hit of caffeine, as well as showing your colleagues that you're not be be messed with.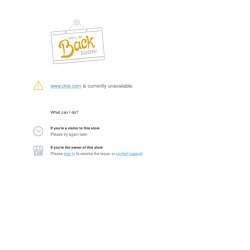 MUG!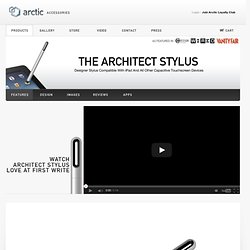 Arctic Accessories - Pushing boundaries in product design and creating inspired accessories for the Apple iPad, iPhone, Amazon Kindle Fire, Samsung Galaxy etc, that combine both style and functionality. The Architect Stylus for iPad and other capacitive touchscreen devices. Anodized from aircraft grade aluminium. Smooth to the touch, its elegant finish is the perfect complement to your device. Perfectly balanced and ergonomically designed to help you work longer with less effort.
The Architect Stylus | Arctic Accessories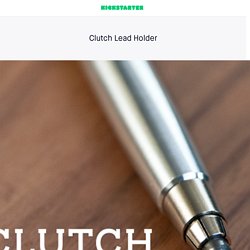 Clutch Lead Holder
The pencil is a powerful and incredible tool. It takes all of those ideas swirling around in our minds and makes them real. This tool is so vital that it deserves to be something more than the disposable and mass produced hunk of plastic that you typical find in stores.
the ravi ratan cufflinks offer 2GB of USB storage and the capacity to create wifi hotspots spy-ready cufflinks by designer ravi ratan offer 2GB flashdrive storage and the capacity to create a wi-fi hotspot. when pulled apart, the device reveals a USB end port hidden inside. by plugging the USB into a web-connected computer, a user creates a high-speed wifi hotspot from which laptops and mobile devices can access the internet. the cufflinks themselves are oval-shaped of polished silver, measuring 0.75 inches in length and width and 0.25 inches deep, available via brookstone or cufflinks.com for the cost of 250 USD. full view of open cufflink full view of closed cufflink
secret agent wifi cufflinks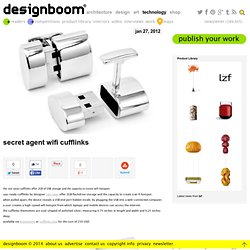 Jedi Bath Robes
You know you have always wanted to be a wizard. But not one of those swish and flick wizards from the movies. You want to be the Dungeons & Dragons wizard - the party's controller. See that word there? CONTROLLER.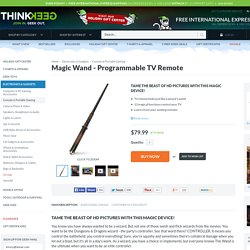 Fia Carafe - Nina Jobs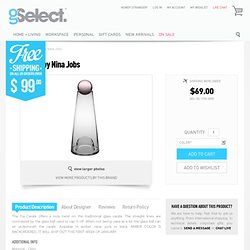 The Fia Carafe offers a nice twist on the traditional glass carafe. The straight lines are contrasted by the glass ball used to cap it off. When not being used as a lid, the glass ball can sit underneath the carafe. Available in amber, clear, pink or black.
Wood and Titanium ring - hersteller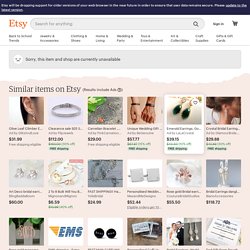 <div id="javascript-nag" class="notice"><p> Take full advantage of our site features by enabling JavaScript. <a href="http://www.etsy.com/ca/help/article/372">Learn more</a>. </p></div> Help Etsy
Georgia Brown Picker's Wallet
Sumo: A Heavyweight for small cables
Sumo is an elegant and useful cable management tool designed to be placed on a desk, tabletop or workstation to prevent cables from dropping off the edge. Sumo acts like a paperweight for your cables and features high-tech Japanese micro-suction pads underneath for even further grip. Cables are now easily weighed down and remain in place yet they can still be repositioned. Micro-Suction This compact weighted accessory exploits a Japanese micro-suction technique that, without adhesives, resists slippage on most smooth surfaces, even glass. It can be repositioned and reused at will.
Above the Fold
SUPERPLEXUS
Wireless Gamepad F710
This item was introduced at the Consumer Electronics Show 2012Arabian Photoshop Russian color English-Russian Russian English Hebrew A million keyboards in one Optimus Popularis is an indispensable tool when it comes to high performance in any creative field and will be appreciated by designers, typesetters, traders, musicians, video designers, photographers, and others.
Optimus Popularis
A professional-grade tablet, the BlackBerry PlayBook helps transform the way you work and play by combining the features you need with a powerful, ultra-portable design you want. You'll enjoy uncompromised Web browsing, true multitasking, and brilliant multimedia playback, as well as advanced security features and out-of-the-box enterprise support. Works smarter, play harder with the BlackBerry PlayBook (see larger image). The vivid 7-inch multi-touch display looks and feels great in your hand (see larger image).
Blackberry Playbook
Hug Salt & Pepper Shakers
Bold Visions: A Digital Painting Bible (9781600610202): Gary Tonge
Venum Ankle Support Guard
Venum Amazonia 3.0 Fight Shorts
Leafit Bookmarks 1