Wish List
Barcelona Style Chair & Ottoman. Specifications What makes the Rove Barcelona Chair & Ottoman so special?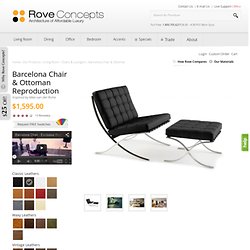 Our Barcelona Chair & Ottoman reproduction is an extremely exclusive furniture piece, owing to the hand stitching required for the upholstery. Dot Grid Journal - Creatives Outfitter. For too long, Creatives have suffered from inefficiency, disorganization, and careers at the mercy of bureaucracy.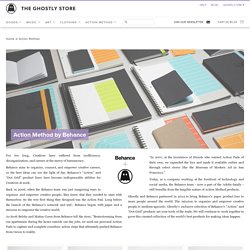 Behance aims to organize, connect, and empower creative careers, so the best ideas can see the light of day. Behance's "Action" and "Dot Grid" product lines have become indispensable utilities for Creatives at work. EXHIBITION chair. Scroll Down To View Options PlushVelvet™ Fabrics Apple PlushVelvet™ cut by the yard Bayoux PlushVelvet™ cut by the yard Black PlushVelvet™ cut by the yard.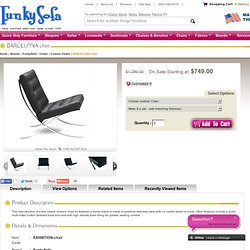 The Architect Stylus | Arctic Accessories. Arctic Accessories - Pushing boundaries in product design and creating inspired accessories for the Apple iPad, iPhone, Amazon Kindle Fire, Samsung Galaxy etc, that combine both style and functionality.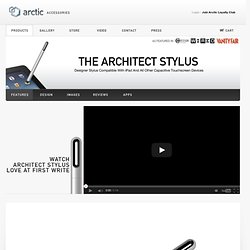 The Architect Stylus for iPad and other capacitive touchscreen devices. Anodized from aircraft grade aluminium. Smooth to the touch, its elegant finish is the perfect complement to your device. Perfectly balanced and ergonomically designed to help you work longer with less effort. Clutch Lead Holder. The pencil is a powerful and incredible tool.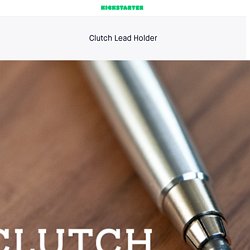 It takes all of those ideas swirling around in our minds and makes them real. This tool is so vital that it deserves to be something more than the disposable and mass produced hunk of plastic that you typical find in stores. That's where Clutch comes in – it's a beautifully crafted, simple, and elegant lead holder designed to feel natural in your hands and truly last. The Clutch Lead Holder contains 5.6mm lead. It's much thicker than a traditional pencil, but this bold weight excels at loose and freehand sketching. Secret agent wifi cufflinks. Jan 27, 2012 secret agent wifi cufflinks the ravi ratan cufflinks offer 2GB of USB storage and the capacity to create wifi hotspots spy-ready cufflinks by designer ravi ratan offer 2GB flashdrive storage and the capacity to create a wi-fi hotspot. when pulled apart, the device reveals a USB end port hidden inside. by plugging the USB into a web-connected computer, a user creates a high-speed wifi hotspot from which laptops and mobile devices can access the internet. the cufflinks themselves are oval-shaped of polished silver, measuring 0.75 inches in length and width and 0.25 inches deep, available via brookstone or cufflinks.com for the cost of 250 USD.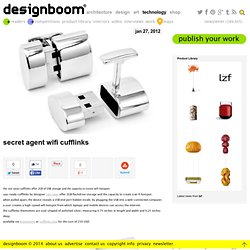 Jedi Bath Robes. Magic Wand - Programmable TV Remote. Fia Carafe - Nina Jobs. The Fia Carafe offers a nice twist on the traditional glass carafe.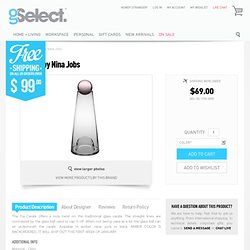 The straight lines are contrasted by the glass ball used to cap it off. When not being used as a lid, the glass ball can sit underneath the carafe. Available in amber, clear, pink or black. Wood and Titanium ring - hersteller. <div id="javascript-nag" class="notice"><p> Take full advantage of our site features by enabling JavaScript.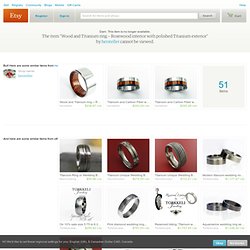 <a href=" more</a>. </p></div> Help Etsy Cart. Georgia Brown Picker's Wallet. Sumo: A Heavyweight for small cables. Sumo is an elegant and useful cable management tool designed to be placed on a desk, tabletop or workstation to prevent cables from dropping off the edge.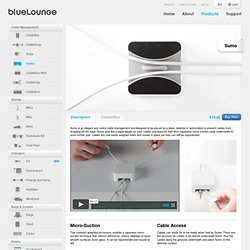 Sumo acts like a paperweight for your cables and features high-tech Japanese micro-suction pads underneath for even further grip. Cables are now easily weighed down and remain in place yet they can still be repositioned. Micro-Suction This compact weighted accessory exploits a Japanese micro-suction technique that, without adhesives, resists slippage on most smooth surfaces, even glass. It can be repositioned and reused at will. Above the Fold. SUPERPLEXUS. LYTRO: Light Field Camera. Wireless Gamepad F710. Optimus Popularis. This item was introduced at the Consumer Electronics Show 2012Arabian Photoshop Russian color English-Russian Russian English Hebrew A million keyboards in one Optimus Popularis is an indispensable tool when it comes to high performance in any creative field and will be appreciated by designers, typesetters, traders, musicians, video designers, photographers, and others.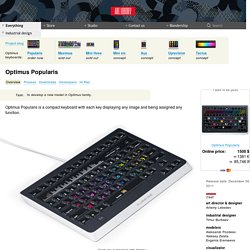 Blackberry Playbook. Hug Salt & Pepper Shakers. Bold Visions: A Digital Painting Bible (9781600610202): Gary Tonge. Portable Treehouse for Camping and Playing. Venum Ankle Support Guard. Venum Amazonia 3.0 Fight Shorts. Soft as a Rock.
Rocks, stones and pebbles have been used as decorative objects since... well... the stone age actually. But, rocks are usually a bit hard to be around. They often look cool, but you wouldn't exactly hug one - until now! Stephanie Marin is the creator of these amazing looking stones, which is actually very soft and comfortable cushions. Made of 100% virgin wool no less - although I have absolutely no idea what makes wool "virgin"... was it never used before?
Fashion
---