Games
Captain Forever. FastKat. Steam. Territory War. Fancy Pants Adventure 2. Hawken. Class3 - Undead Labs. AUTHOR: JeffDATE RECORDED: July 05, 2012 AT 14:36PM We are (very) excited to announce that Class3 will be available on the PC.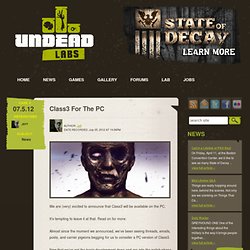 It's tempting to leave it at that. Read on for more: Almost since the moment we announced, we've been seeing threads, emails, posts, and carrier pigeons begging for us to consider a PC version of Class3. Now that we've got the basic development done and are into the polish phase of production, we took a look at our options.
FarCry 2
StarCraft II. Neverwinter Nights. Dragon Age. Grepolis. Mushroom Life. Direct2Drive.
---