501
Random Stuff ~ squidpup.com
How Wolves Change Rivers (A Physical Geography Lesson)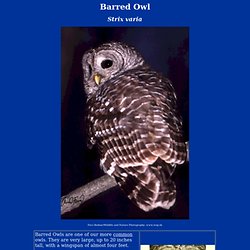 Barred Owls live alone, except when mating or raising young. Barred Owls get ready to mate in late Winter. They begin by calling and responding.
Barred Owl
Merlin Bird ID app – Instant Bird Identification Help for 285 North American birds
You get cash back at any of 1,700 stores any time you start your shopping trip at Ebates.com. There are no points to redeem, no forms to mail in, and no fees. Stores pay Ebates a sales commission for sending shoppers their way, and Ebates uses the commission to pay you cash back. All we need is an email address so we can notify you when your cash back has been credited.