PHP/MySQL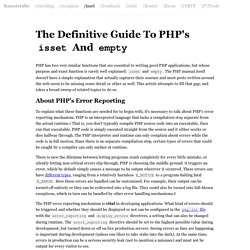 The Definitive Guide To PHP's isset And empty
PHP has two very similar functions that are essential to writing good PHP applications, but whose purpose and exact function is rarely well explained: isset and empty. The PHP manual itself doesn't have a simple explanation that actually captures their essence and most posts written around the web seem to be missing some detail or other as well. This article attempts to fill that gap; and takes a broad sweep of related topics to do so.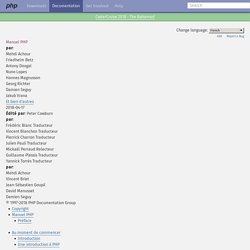 PHP 5.6.0alpha1 released Edit Report a Bug Manuel PHP ¶
Compréhension des objets avec PHP 5 : Encapsulation, Héritage, Polymorphisme – Partie 2 -
Nous voici dans la deuxième partie de notre compréhension des objets avec PHP5. La première partie était consacrée à la définition d'une classe, d'un objet et du constructeur. Celle-ci nous a permis de poser les bases dans la Programmation Orientée Objet (POO). Ainsi d'en devenir un langage de POO à part entière, PHP5 fournit néanmoins désormais les outils nécessaires à ceux qui souhaitent choisir cette orientation. La manipulation d'objets n'est pas une obligation dans le plupart des cas mais pourrait devenir une nécessité pour de gros projets.