HTML/CSS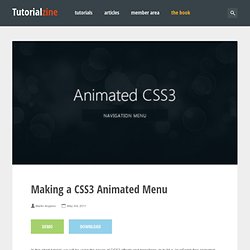 Martin Angelov In this short tutorial, we will be using the power of CSS3 effects and transitions, to build a JavaScript-free animated navigation menu which you can use to add a polished look to your website or template. We will be using some neat features such as the :target pseudo selector and :after elements. The HTML
It's an exiting time for web designers. Major new browser releases are coming in very fast and with them massively extended support for CSS3. Especially Google Chrome leading the way and showing what's possible with today's technology. But more important than the parade of cutting edge properties is the fact that more and more CSS3 properties arise that have general support in all contemporary browsers. Below I will explain the most important of these.
The Most Important CSS3 Properties Explained | Onextrapixel - Showcasing Web Treats Without A Hitch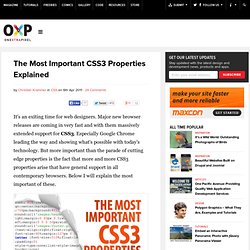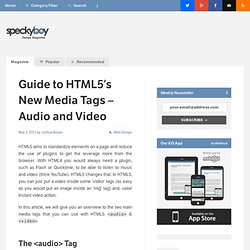 Guide to HTML5′s New Media Tags – Audio and Video
HTML5 aims to standardize elements on a page and reduce the use of plugins to get the leverage more from the browser. With HTML4 you would always need a plugin, such as Flash or Quicktime, to be able to listen to music and video (think YouTube). HTML5 changes that. In HTML5, you can just put a video inside some 'video' tags (as easy as you would put an image inside an 'img' tag) and, voila!
HTML5 & CSS3 form HTML5 introduced useful new form elements as such as sliders, numeric spinners and date pickers. This tutorial will show you how to create a form with HTML5, and make it look really cool with CSS3. A great way to get started in both CSS3 and HTML5.» View tutorial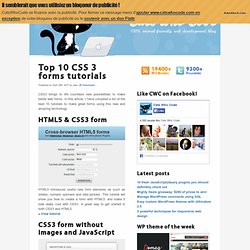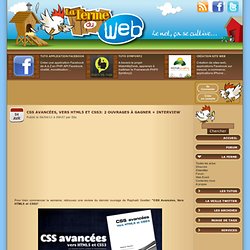 Pour bien commencer la semaine, retrouvez une review du dernier ouvrage de Raphaël Goetter: "CSS Avancées, Vers HTML5 et CSS3". Avec l'arrivée à grand pas des technologies CSS3 et HTML5, un ouvrage pour bien démarrer avec les nouvelles instructions était très attendu ! Raphaël Goetter qui n'est autre que le papa d'Alsacréations nous livre les secrets du CSS que ce soit des instructions peu connues du CSS2 ou des dernières instructions CSS3, vous n'aurez qu'une hâte après la lecture de ce livre: Mettre tout ça en pratique ! Les sujets abordés
CSS avancées, vers HTML5 et CSS3: 2 ouvrages à gagner + interview
timeline