Yahoo Pipes
Business Information and News: Track, Connect and Share - Tracked.com. Yahoo! Pipes : RSS Widget. Voici un tutorial tout simple pour afficher un flux RSS quelconque sur un blog ou un site, en utilisant le service gratuit de Yahoo!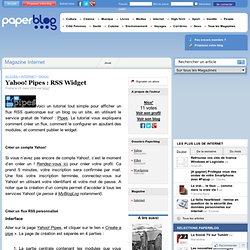 : Pipes. Le tutorial vous expliquera comment créer un flux, comment le configurer en ajoutant des modules, et comment publier le widget. Itools. Itools is a Python library which provides a wide range of capabilities: Workflow The simple workflow engine (itools.workflow) that uses automatons to represent a workflow system, is the oldest and probably the most widely used itools module.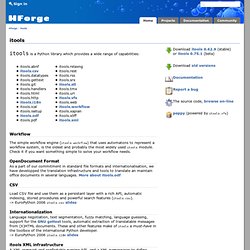 Strings. Buy this book at Amazon.com 8.1 A string is a sequence A string is a sequence of characters.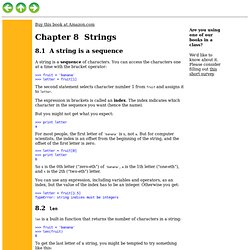 You can access the characters one at a time with the bracket operator: >>> fruit = 'banana' >>> letter = fruit[1] Handling CSV Files in Python. As a buddy of mine always says "the nice thing about standards is that there's so many to choose from".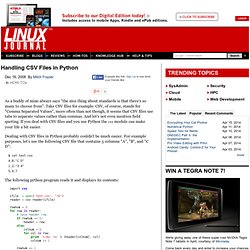 Take CSV files for example. CSV, of course, stands for "Comma Separated Values", more often than not though, it seems that CSV files use tabs to separate values rather than commas. And let's not even mention field quoting. YQL Console: select title from rss where url=" Using Yahoo! Pipes for Online Monitoring. La veille documentaire en 5, 30 ou 60 minutes : Articles : Thot Cursus. Les professeurs-documentalistes mènent une importante activité de veille documentaire pour leurs établissements.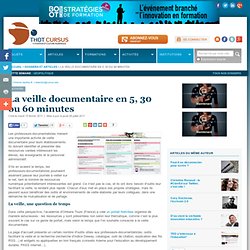 Ils doivent identifier et présenter des ressources variées intéressant les élèves, les enseignants et le personnel administratif. S'ils en avaient le temps, les professeurs-documentalistes pourraient aisément passer leur journée à veiller sur le net, tant le nombre de ressources numérique potentiellement intéressantes est grand. Editing 'Social Media Monitoring Tool' 14 Great YQL Tutorials For Beginners « Ijaar. Yahoo!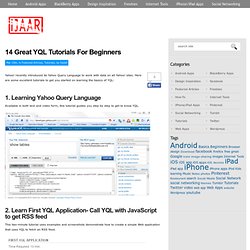 Recently introduced its Yahoo Query Language to work with data on all Yahoo! Sites. Here are some excellent tutorials to get you started on learning the basics of YQL: 1. Yahoo Pipes : cela sera probablement un must. Figurez-vous que Jeudi dernier, une petite moité des "Web 2.0 guys français" qui ont participé à notre voyage d'étude en juin dernier aux USA, se sont retrouvés pour un dîner sympa dans un restaurant du 17ème à Paris...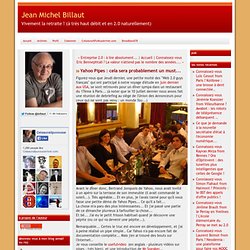 (à noter que le 10 juillet dernier nous avons fait une réunion de debriefing au siège de l'Union des Annonceurs pour ceux qui ne sont pas venu : un monde fou...) Avant le dîner donc, Bertrand Jonquois de Yahoo, nous avait invité à un apéro sur la terrasse de son immeuble (il avait commandé le soleil...). Trés agréable... Et en plus, je l'avais tanné pour qu'il nous fasse une petite démo de Yahoo Pipes... Ce qu'il a fait...La chose m'a paru des plus intéressantes...
Convert an http authenticated feed into a regular feed you can use with Google Reader copy copy. Data scraping with YQL and jQuery | kelvinluck.com. For a project that I'm currently working on I need a list of all the US National Parks in XML format.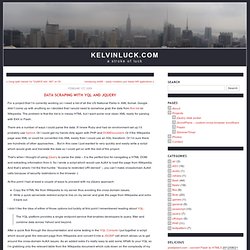 Google didn't come up with anything so I decided that I would need to somehow grab the data from this list on Wikipedia. The problem is that the list is in messy HTML but I want some nice clean XML ready for parsing with E4X in Flash. Xpath Content scrap avec YQL | Actualités | Tour du Web | NGCTW | Nothing's Gonna Change The World. Nous parlions hier du projet de webharvest que nous mettions sur les rails.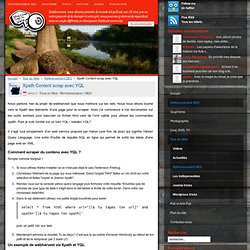 Nous nous étions tourné vers le Xpath des éléments d'une page pour le scraper. Alors j'ai commencé à me documenter sur les outils existant pour basculer un fichier html vers de l'xml valide pour utiliser les commandes xpath. Puis je suis tombé sur un tuto YQL ! Kesako YQL? Editing 'BBtest' Editing 'FBB intent' Editing 'Example: Using the Sub-element Module'
Editing 'Example: Using the String Tokenizer Module' Editing 'Example: Using the Item Builder'
---