DIAGNOSTICS - EVALUATIONS
Dyris. Test d'autoévaluation en français écrit – SEL. French Proficiency Test. To start this French test over, press the Reset button.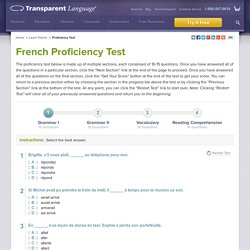 Part I: French GrammarSelect the best answer. 1. Brigitte, s'il vous plaît, ______ au téléphone pour moi. LANGUE FRANCAISE.RU - Test de francais. Oxford University Language Centre. Test de français langue étrangère et seconde. Tests diagnostiques.
---