Adservers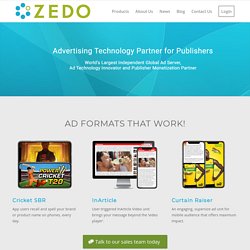 Latest generation ad server for direct-sold inventory Keep operations costs low. Meet the needs of advertisers. Talk to us about how our cloud-based ad server can benefit you. Learn more
ZEDO Advertising Technology Partner
Save money & time with an all-inclusive ad server Simplify your digital campaign management & optimise your organisation by opting for a powerful all-in-one ad server Easily deliver Rich Media banner on Mobile sites & apps, with our SDKs for Android & iOS.... Easily program rich media and video campaigns Attract your advertisers thanks to innovative & ready-to-use ad formats for Web & Mobile, available in a built-in gallery Extend the value of your audience with data Increase performances using data such as audience segmentation, interest targeting, retargeting Use a flexible mediation platform connected with RTB partners and Web & Mobile ad networks to best monetize your inventory Benefit from quality service and round the clock support Get excellent assistance to meet your expectatives thanks to dedicated local experts. Ad server: Web, Tablet & Mobile Rich Media - Smart AdServer
Ad server solution for publishers, advertisers & networks
DoubleClick for Publishers: Break Down Barriers to Revenue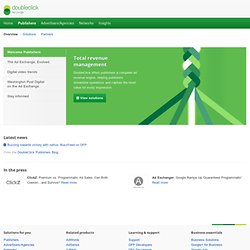 DoubleClick offers publishers a complete ad revenue engine, helping publishers streamline operations and capture the most value for every impression. View solutions Explore data-lead insights from DoubleClick video ad solutions to find out the reasons behind video's astronomical growth.
Adform
AdJuggler - Ad Serving & Management
Ad Server for Networks and Publishers
Adserver Lösungen - Banner System - Banner-Software
The Atlas Advertiser Suite is a world-class media measurement platform, delivering billions of impressions every day. Backed by large scale and infrastructure, you can count on us to deliver and accurately measure your digital campaigns cross-channel. Alongside our core technology, we offer a myriad of solutions as an extensible platform for your loftiest marketing ambitions: from our robust audience activation, our API suite to connect to your systems, unparalleled data and analytics offerings, and deep partnerships with the tools and platforms that matter most to you.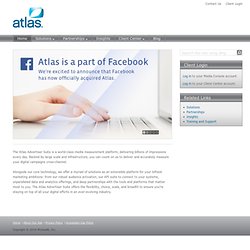 Atlas Solutions - Online Advertising: Advertiser and Publisher Ad Serving Solutions
Digital Media and Ad Serving Technology - 24/7 Real Media
For Publishers Provides a comprehensive monetization platform and ad management tools to run every facet of digital advertising operations more effectively For Agencies & Advertisers Brings together every digital marketing channel for the advertiser and agency to execute customised, targeted, multi-channel digital media campaigns 24/7 Media Acquires...