Cinema4D
Tips and Technique
Qwik Tuts – Quick Tutorials from 5 to 10 minutes
Muse Creative | A blog devoted all the goodness of Cinema4D and design
C4DAvenue The Cinema 4D Tutorial source
Ace5 education
The TP Toolkit Pro has been in production for quite some time as we've developed some great new tools and user experience updates for you, the artist. We are excited to announce that the TP Toolkit Pro is officially out now. The updates include over 25 TP objects for animating and sculpting dynamic visuals with, the integration of Turbulence FD so that you now can control TFD entirely with particles as well as control particles with TFD. Read More In this tutorial we talk about how to use the Formula effector with Xpresso to create an oscillation effect. We create sin waves, circles, and spirals.
Tutorials | Think Particle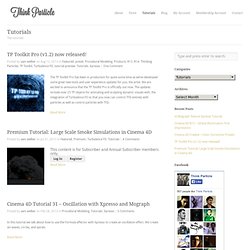 Maxon Cinema 4D
Cinema 4D | 3DM3 – Tutorials | Making ofs | Articles | Videos Tutorials
3D models, materials, scenes and more for CINEMA 4D users
40 Detailed Cinema-4D Tutorials to Turn you Into a Professional
For those of you who don't know yet, Cinema 4D is a 3D modeling, rendering and animation software package (developed by MAXON Computer GmbH of Friedrichsdorf, Germany).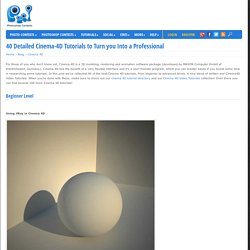 The Hobbit & The Dawn of High Frame Rate Cinema