Cinema4D
Tips and Technique. Qwik Tuts – Quick Tutorials from 5 to 10 minutes. Muse Creative | A blog devoted all the goodness of Cinema4D and design. C4DAvenue The Cinema 4D Tutorial source. CG Terminal. Ace5 education. Tutorials | Think Particle. The TP Toolkit Pro has been in production for quite some time as we've developed some great new tools and user experience updates for you, the artist.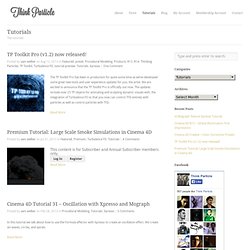 We are excited to announce that the TP Toolkit Pro is officially out now. The updates include over 25 TP objects for animating and sculpting dynamic visuals with, the integration of Turbulence FD so that you now can control TFD entirely with particles as well as control particles with TFD. Read More In this tutorial we talk about how to use the Formula effector with Xpresso to create an oscillation effect. We create sin waves, circles, and spirals. Maxon Cinema 4D.
Cinema 4D. 3D models, materials, scenes and more for CINEMA 4D users. 40 Detailed Cinema-4D Tutorials to Turn you Into a Professional. For those of you who don't know yet, Cinema 4D is a 3D modeling, rendering and animation software package (developed by MAXON Computer GmbH of Friedrichsdorf, Germany).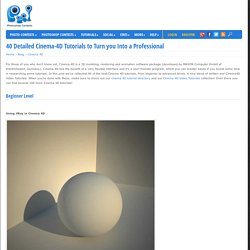 Cinema 4D has the benefit of a very flexible interface and it's a user-friendly program, which you can master easily if you invest some time in researching some tutorials. In this post we've collected 40 of the best Cinema 4D tutorials, from beginner to advanced levels. A nice blend of written and Cinema4D Video Tutorials. When you're done with these, make sure to check out our cinema 4D tutorial directory and our Cinema 4D Video Tutorials collection! Cinema 4D. Cinema 4D Tutorials. The Hobbit & The Dawn of High Frame Rate Cinema The technology wizards of the film/TV industry have been talking about High Frame Rate cinema for a long time; indeed, Douglas Trumbull's Showscan at 60 fps presaged the current interest over 30 years ago.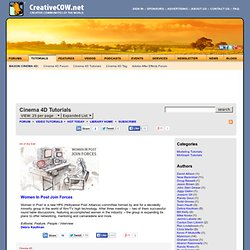 But it took director Peter Jackson to take the plunge for mainstream cinema, declaring he would shoot The Hobbit in 48 fps to get momentum going. In about a year's time, manufacturers made the gear, theater exhibitors updated their movie theaters, and the studios prepared for one of the most audacious technology debuts that cinema has seen. Creative COW goes behind the scenes to see what it took for you to see The Hobbit in 48 fps. 3D, Maya, Blender and more tutorials from beginner to advanced | Cgtuts+
---