Temperature
Monica. Tim Sneath : Extracting Metadata from Windows Media files. In this article, I'll describe how to use the Windows Media Format SDK to access the metadata embedded in Windows Media files for cataloguing purposes.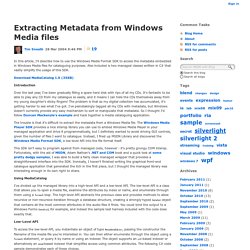 Also included is two managed classes written in C# that vastly simplify the usage of this SDK. Download MediaCatalog 1.0 (35KB) Introduction. Developer Resources. Zone. SiSoftware Sandra 2014 Released: London, UK, 25th November 2013 - Updated Device Performance Certification, New Benchmarks, Windows 8.1 support.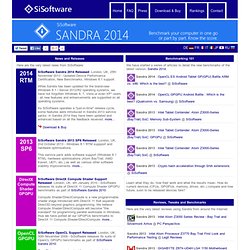 While Sandra has been updated for the brand-new Windows 8.1 / Server 2012/R2 operating systems, we have not forgotten Windows 8, 7, Vista or even XP* users - all new features and enhancements are supported on all operating systems. As SiSoftware operates a "just-in-time" release cycle, some features were introduced in Sandra 2013 service packs: in Sandra 2014 they have been updated and enhanced based on all the feedback received. more... Download & Buy.
---