Political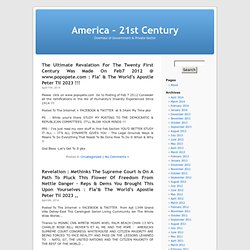 The Ultimate Revalation For The Twenty First Century Was Made On Feb7 2012 @ www.popopete.com : Fla' & The World's Apostle Peter Til 2023 !!! April 11th, 2014 Please click on www.popopete.com Go to Posting of Feb 7 2012 Consieder all the ramifications in the lite of Humanity's Insanity Experienced Since 1914 !!! Posted To The Internet + FACEBOOK & TWITTER at 9.34am My Time pke PS : While your'e there STUDY MY POSTING TO THE DEMOCRATIC & REPUBLICAN COMMITTEES -IT'LL BLOW YOUR MINDS !!! PPS : I've just read my own stuff in this Feb Section YOU'D BETTER STUDY IT ALL – IT'S ALL DYNAMITE GIVES YOU : The Legal Grounds Ways & Means To Do Everything That Needs To Be Done How To Do It When & Why !!
America - 21st Century
Gore warns Americans over Bush lawlessness, tyranny
Monday, January 30, 2006 Edits by Massachusetts congressman Marty Meehan's staff on his Wikipedia article spurred a Lowell Sun story and a subsequent Wikipedia investigation of all Internet addresses assigned to the Congress of the United States. While edits from the Capitol are not generally news, the biographical article for Mr. Meehan was carefully edited, removing negative comments while expanding with content from the congressman's political flyer. The IP address which made these edits has an extensive editing history on Wikipedia, and has been repeatedly blocked in past months for article vandalism and violation of Wikipedia policies (Wikipedia's log of 143.231.249.141 being blocked from editing).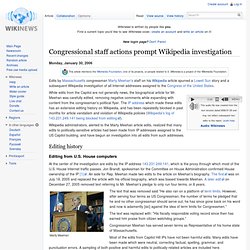 Congressional staff actions prompt Wikipedia investigation - Wikinews
The history of civilized society and the policy which shaped it has been called by pessimists a sea of blood, dirt and baseness. And if one takes the development of civilization purely according to the social results obtained so far, then indeed Gustave Flaubert was right in greeting the much celebrated "ascent of humanity" with the sarcastic remark: Hein, le progrès, quelle blague! Et la politique, une belle saleté!
The Problem of Social Consciousness in Our Time (1) (Josef Weber)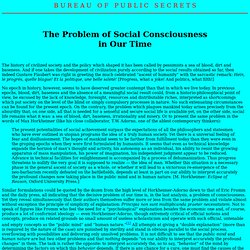 Recent Commentaries
World | Americas | Bolivia leader halves his own pay
The Bolivian new left-wing President, Evo Morales, has cut his salary by more than a half to a little over $1,800 (£1,012) per month. The decision means that the salaries of all Bolivian public sector employees will be reviewed, as no official can earn more than the president. Mr Morales said the money saved would be used to increase the numbers of doctors and teachers. Mr Morales suggested that members of Congress should cut their salaries too.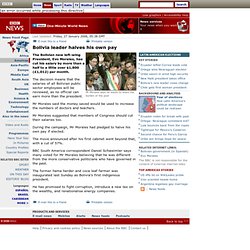 Capitol Hill Blue: The Oldest Political News Site on the Internet
Résultats du concours : samedi, 15 septembre 2012 Vous avez non réclamé. Visiteur du site...
outside the cube - philosophy . religion . politics . history . science