Customization
User Interface
Description: An application error occurred on the server. The current custom error settings for this application prevent the details of the application error from being viewed remotely (for security reasons). It could, however, be viewed by browsers running on the local server machine. Details: To enable the details of this specific error message to be viewable on remote machines, please create a tag within a "web.config" configuration file located in the root directory of the current web application. This tag should then have its "mode" attribute set to "Off". Notes: The current error page you are seeing can be replaced by a custom error page by modifying the "defaultRedirect" attribute of the application's configuration tag to point to a custom error page URL.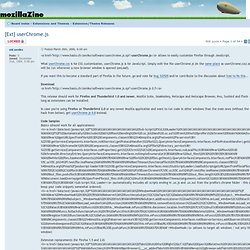 userChrome.js - MozillaZine Forums
userChrome.js allows to easily customize Firefox through JavaScript. What userChrome.css is for CSS customization, userChrome.js is for JavaScript. Simply edit the file userChrome.js (in the same place as userChrome.css) and its content will be run whenever a new browser window is opened ( onLoad ).
I recently launched a Drupal Codebase site for a programming community and wanted to have the user profiles to be more than just a " signed up on ..." and a Tracker Tab . I wanted them to have structured and customisable blocks , dynamic content , a Peer to Peer Message Board (almost finished)... I can have my dreams cant I?! I recently wrote a book page on how to programmatically create a view . I wanted to do this as it would allow to me control almost an entire website with multiple content types , terms and users (as well as combinations of the three) along with RSS feeds - all powered by the Views Module + a bolt on module consisting mostly of a menu callback and a function to make and configure a view.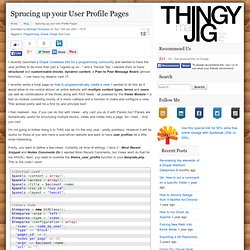 Drupal, Theme User Profile, Views, Panels