CRAFTS
Ana White | Free and Easy DIY Furniture Plans to Save You Money. Printable Paper.
Craft Blogs
A Beautiful Mess. ALTERED BOOKS. MUSES. NATURE ARTS. PAPER ARTS. SEWING. KoolAid Playsilks. A couple months ago I came upon a tutorial on The Artful Parent for Kool-Aid Dyed Playsilks.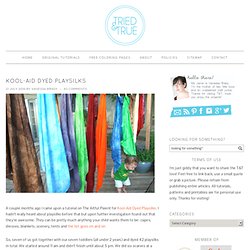 I hadn't really heard about playsilks before that but upon further investigation found out that they're awesome. They can be pretty much anything your child wants them to be: capes, dresses, blankets, scenery, tents and the list goes on and on. So, seven of us got together with our seven toddlers (all under 2 years) and dyed 42 playsilks in total. We started around 11 am and didn't finish until about 5 pm.
All Featured Projects | Cut Out. Sketchbookideas.
---