COOKING
Whats on the menu? With approximately 45,000 menus dating from the 1840s to the present, The New York Public Library's restaurant menu collection is one of the largest in the world, used by historians, chefs, novelists and everyday food enthusiasts.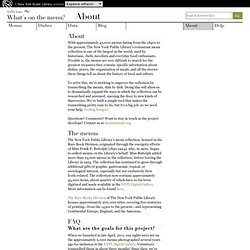 Trouble is, the menus are very difficult to search for the greatest treasures they contain: specific information about dishes, prices, the organization of meals, and all the stories these things tell us about the history of food and culture. To solve this, we're working to improve the collection by transcribing the menus, dish by dish. Doing this will allow us to dramatically expand the ways in which the collection can be researched and accessed, opening the door to new kinds of discoveries. Cookstr - Recipes You Love From Cookbooks You Trust.
Food Blogs. Food Blogs 2. Ginas Skinny Recipes. Yummly | The best site for recipes, recommendations, food and cooking. Group Recipes. We ♥ Food. Jamie Oliver | Official site for recipes, books, tv, restaurants and food revolution. Visual Recipes - Free Recipes with Step-by-Step Pictures.
Recipes. Food Network - Easy Recipes, Healthy Eating Ideas and Chef Recipe Videos. Epicurious.com: Recipes, Menus, Cooking Articles & Food Guides. Food.com - Thousands Of Free Recipes From Home Chefs With Recipe Ratings, Reviews And Tips. Allrecipes.com - recipes, menus, meal ideas, food, and cooking tips.
---