Iran
Netanyahu: Israel has right to defend itself. WASHINGTON (AP) — Israel's prime minister on Monday vigorously asserted his country's right to defend itself against the nuclear threat emanating from Iran, warning that time was growing short and declaring he wouldn't "gamble with the security of the state of Israel.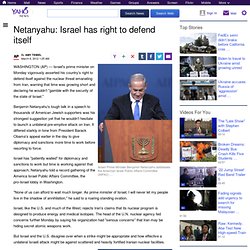 " Benjamin Netanyahu's tough talk in a speech to thousands of American Jewish supporters was his strongest suggestion yet that he wouldn't hesitate to launch a unilateral pre-emptive attack on Iran. It differed starkly in tone from President Barack Obama's appeal earlier in the day to give diplomacy and sanctions more time to work before resorting to force. Israel has "patiently waited" for diplomacy and sanctions to work but time is working against that approach, Netanyahu told a record gathering of the America Israel Public Affairs Committee, the pro-Israel lobby in Washington.
"None of us can afford to wait much longer. Obama to Netanyahu: Give Iran diplomacy more time | The Envoy. Pres.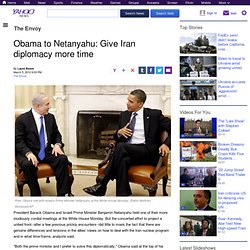 Obama met with Israel's Prime Minister Netanyahu at the White House Monday. (Pablo Martinez Monsivais/AP … President Barack Obama and Israeli Prime Minister Benjamin Netanyahu held one of their more studiously cordial meetings at the White House Monday. But the concerted effort to project a united front--after a few previous prickly encounters--did little to mask the fact that there are genuine differences and tensions in the allies' views on how to deal with the Iran nuclear program and in what time-frame, analysts said.
"Both the prime minister and I prefer to solve this diplomatically," Obama said at the top of his three-hour meeting with the Israeli leader, echoing the thrust of his comments to the pro-Israel lobby group the American Israel Public Affairs committee (AIPAC) Sunday. US admiral says forces prepared to confront Iran. MANAMA, Bahrain (AP) — The top U.S.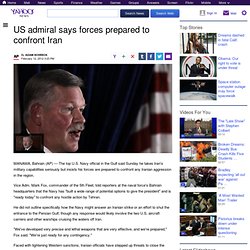 Navy official in the Gulf said Sunday he takes Iran's military capabilities seriously but insists his forces are prepared to confront any Iranian aggression in the region. Vice Adm. Bangkok blasts wound Iranian attacker, 4 others. BANGKOK (AP) — An Iranian man carrying grenades blew off his own legs and wounded four civilians Tuesday after an earlier blast shook his house in Bangkok, Thai authorities said.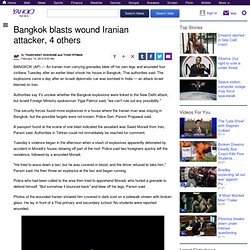 The explosions came a day after an Israeli diplomatic car was bombed in India — an attack Israel blamed on Iran. Authorities say it's unclear whether the Bangkok explosions were linked to the New Delhi attack, but Israeli Foreign Ministry spokesman Yigal Palmor said, "we can't rule out any possibility. " Thai security forces found more explosives in a house where the Iranian man was staying in Bangkok, but the possible targets were not known, Police Gen.
New IAEA report shows Iran expands nuclear enrichment at Natanz | The Envoy. Iran President Mahmoud Ahmadinejad touring Tehran's research reactor Feb. 15, 2012.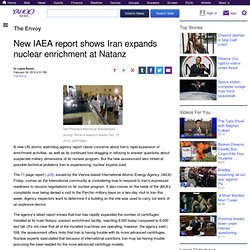 (AFP/Getty) A new UN atomic watchdog agency report raises concerns about Iran's rapid expansion of enrichment activities, as well as its continued foot-dragging in refusing to answer questions about suspected military dimensions of its nuclear program. But the new assessment also hinted at possible technical problems Iran is experiencing, nuclear experts said. The 11-page report (.pdf), issued by the Vienna-based International Atomic Energy Agency (IAEA) Friday, comes as the international community is considering how to respond to Iran's expressed readiness to resume negotiations on its nuclear program.
Ahmadinejad: Iran to reveal new nuke achievements. TEHRAN, Iran (AP) — Iran will soon unveil "big new" nuclear achievements, President Mahmoud Ahmadinejad said Saturday while reiterating Tehran's readiness to revive talks with the West over the country's controversial nuclear program.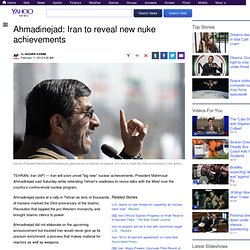 Ahmadinejad spoke at a rally in Tehran as tens of thousands of Iranians marked the 33rd anniversary of the Islamic Revolution that toppled the pro-Western monarchy and brought Islamic clerics to power. Ahmadinejad did not elaborate on the upcoming announcement but insisted Iran would never give up its uranium enrichment, a process that makes material for reactors as well as weapons. The West suspects Iran's nuclear program is aimed at producing atomic weapons, a charge Tehran denies, insisting it's geared for peaceful purposes only, such as energy production. U.S. condemns reported Iran death sentence for former U.S. Marine | The Envoy. The State Department said Monday that it was working to confirm Iranian state media reports that an Iran revolutionary court had sentenced an American citizen and former U.S.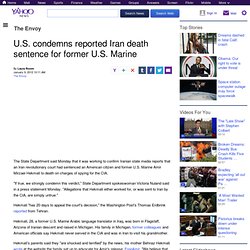 Marine Amir Mirzaei Hekmati to death on charges of spying for the CIA. "If true, we strongly condemn this verdict," State Department spokeswoman Victoria Nuland said in a press statement Monday. "Allegations that Hekmati either worked for, or was sent to Iran by the CIA, are simply untrue. " Israeli attack on Iran might pull US into new war. WASHINGTON (AP) — An Israeli pre-emptive attack on Iran's nuclear sites could draw the U.S. into a new Mideast conflict, a prospect dreaded by a war-weary Pentagon wary of new entanglements.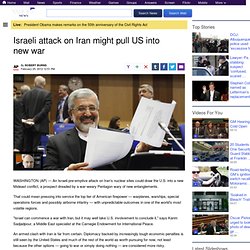 That could mean pressing into service the top tier of American firepower — warplanes, warships, special operations forces and possibly airborne infantry — with unpredictable outcomes in one of the world's most volatile regions. "Israel can commence a war with Iran, but it may well take U.S. involvement to conclude it," says Karim Sadjadpour, a Middle East specialist at the Carnegie Endowment for International Peace. An armed clash with Iran is far from certain. Exclusive: Iranian Payback? Hits on Israelis Mimic Attacks on Iran Scientists. Has Iran decided to turn Israeli tactics against Israel?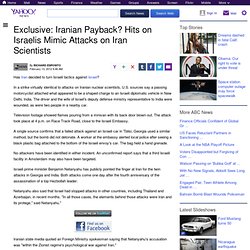 In a strike virtually identical to attacks on Iranian nuclear scientists, U.S. sources say a passing motorcyclist attached what appeared to be a shaped charge to an Israeli diplomatic vehicle in New Delhi, India. The driver and the wife of Israel's deputy defense ministry representative to India were wounded, as were two people in a nearby car.
---