Softwares
PangeaVR: VR Panorama viewer for Apple iPhone & iPad
Creating QuickTime VR panoramas is a task that involves many resources. You'll find a lot of information on the web with little bits and pieces of what you need to know to create these kinds of interactive images, but it's rare to find a single location with the complete story. So, my goal with this page is to explain, in detail, my panoramic rig, and to explain my software workflow process. Please note that my way is certainly not the only way, but it's the way that works for me, and there are certainly simpler ways to make quick-and-dirty panoramas using much less gear. However, to make hi-resolution fully spherical panos like the ones on this site, you'll need something pretty similar to what I use.
How to Make QTVR Panoramas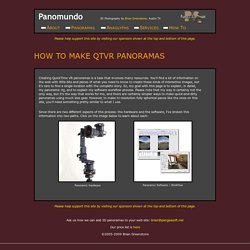 On 1 January 2012 Kekus stopped selling Calico and LensFix in order to care for a family member. As my care for my family member will continue into the foreseeable future, I suspended my license for the SIFT patent. In accordance with my agreement with the University of British Columbia, I will no longer distribute the SIFT-based Calico. This does not mean that your licensed version will expire. It will continue to function, however I have removed the Calico download from this web site. Be sure to backup your copy!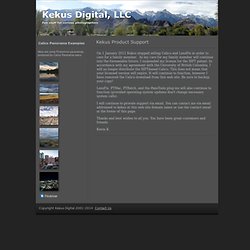 About our products | Kekus Digital, LLC | Kekus Digital
PTgui Tutorial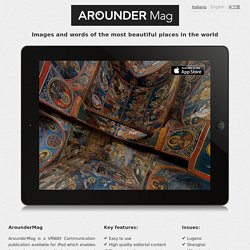 ArounderMag ArounderMag is a VRWAY Communication publication available for iPad which enables its readers to interactively travel around the most beautiful destinations in the world. Our editorial team will regularly offer you a "best of" a destination has to offer. The virtual magazine proposes a combination of interactive panoramic images and services (reportage and interviews) to show what a locality is really like. Much more than a "simple" tourist guide, it is a brand new way to discover the world.
360 VR Stitching with PTGui on Windows XP for beginners