Softwares
PangeaVR: VR Panorama viewer for Apple iPhone & iPad. How to Make QTVR Panoramas. Creating QuickTime VR panoramas is a task that involves many resources.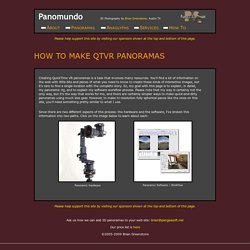 You'll find a lot of information on the web with little bits and pieces of what you need to know to create these kinds of interactive images, but it's rare to find a single location with the complete story. So, my goal with this page is to explain, in detail, my panoramic rig, and to explain my software workflow process. Please note that my way is certainly not the only way, but it's the way that works for me, and there are certainly simpler ways to make quick-and-dirty panoramas using much less gear.
However, to make hi-resolution fully spherical panos like the ones on this site, you'll need something pretty similar to what I use. About our products | Kekus Digital, LLC | Kekus Digital.
Ptgui
PTgui Tutorial. 360 VR Stitching with PTGui on Windows XP for beginners.
---