Google Earth
Descarga Google Earth 3D
University of Tampa Petco Park Qualcomm Stadium Aircraft Carrier Museum Naval Station The Googleplex HP Pavillion Egyptian Museum Rose Garden Football Stadium Morris Dailey Auditorium Winchester Mystery House A Plane Disappearing Planes Spartan Stadium Rose Garden Tribune Tower, Oakland Oakland-Alameda County Coliseum Sacramento Tower Bridge ARCO Arena California State Capitol Ziggurat Building Sea World Air & Space Museum USS Wisconsin Tower of the Americas Simulated Air Crash Louisiana Superdome Jackson Square Tower of the Americas Tropicana Field Norfolk Scope Dodger Stadium Terms of Use Map
Virtual Tourism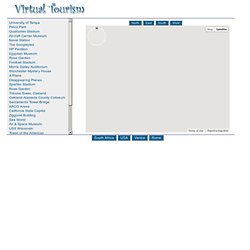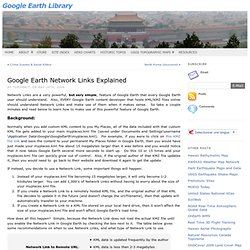 Google Earth Library » Google Earth Network Links Explained
Network Links are a very powerful, but very simple , feature of Google Earth that every Google Earth user should understand. Also, EVERY Google Earth content developer that hosts KML/KMZ files online should understand Network Links and make use of them when it makes sense. So take a couple minutes and read below to learn how to make use of this powerful feature of Google Earth. Background: Normally when you add custom KML content to you My Places, all of the data included with that custom KML file gets added to your main myplaces.kml file (saved under Documents and Settings\username\Application Data\Google\GoogleEarth\myplaces.kml).
The Google Earth Network Link
« President Bush Praises Google Earth Crisis in Darfur Layer | Main | Explore John Muir's Life in Google Earth » April 19, 2007 The Google Earth Network Link One of the most powerful features within Google Earth is the feature called the network link .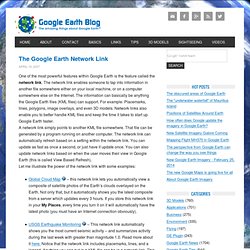 Created by Glenn A. Richard, Mineral Physics Institute, Stony Brook University A Complete Guide to Using Google Earth in the Geoscience Classroom What is Google Earth? - provides Google Earth basics, including descriptions of the three versions of the program.