Alojamiento y promoción de panoramicas
Mundopano.com - El Mundo de las fotografías panorámicas! IVRPA › International VR Photography Association. Cape Town Aerial Panorama, Royal Wedding Victoria of Sweden, Queen Margrethe of Denmark Birthday - Photo Panoramiques. The World Wide Panorama. All images are copyright by the individual photographers.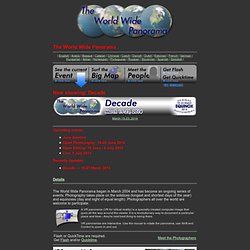 Use in any way other than viewing on this web site is prohibited unless permission is obtained from the relevant photographer. Images and panoramas are NOT in public domain, unless stated otherwise by the contributor! Photographers retain the rights to their work and any inquiries must be addressed to the individual participants. The WWP admin team does not provide contact information beyond what has been made public by the participants on their profile pages. Levels of permission for use of material on this site conforms to the Creative Commons licensing standard. VRMag - issue 31 Olympic Games Beijing Gisele Bünchen Iphone 3G Rio Tahiti Polynesia Megaliths Cracow PangeaVR New York Rubik Cube Munich Falkirk Wheel Multimedia Postcard Panobrella Panoramalampe ... in Fullscreen QT Flash Panoramas Virtual Tours.
IVRPA › International VR Photography Association. Fotografias panorámicas de todo el mundo - 360 Cities. El Mundo en panorámicas - ViewAt.
---