Alojamiento y promoción de panoramicas
Mundopano.com - El Mundo de las fotografías panorámicas!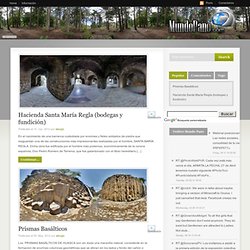 En el nacimiento de una barranca custodiada por enormes y fieles soldados de piedra que resguardan una de las construcciones más impresionantes realizadas por el hombre, SANTA MARÍA REGLA. Dicha obra fue edificada por el hombre más poderoso, económicamente de la corona española, Don Pedro Romero de Terreros, que fue galardonado con el título hereditario […] Continuar... Prismas Basálticos Publicado el 29. May, 2012 por alexgtz.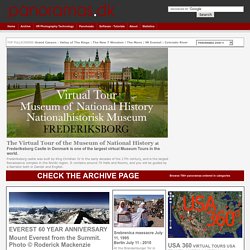 10 years ago at the 50 year anniversary for the first who reached the top of Everest, I published the only existing 360 panorama from the top of Mount Everest. May 29 1953 The top of Mount Everest was reached for the first time by Edmund Hillary and Tenzing Norgay. On May 24, 1989 the Australian photographer and mountaineer Roderick Mackenzie reached the summit.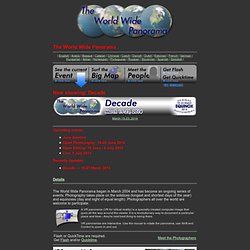 All images are copyright by the individual photographers. Use in any way other than viewing on this web site is prohibited unless permission is obtained from the relevant photographer. Images and panoramas are NOT in public domain, unless stated otherwise by the contributor! Photographers retain the rights to their work and any inquiries must be addressed to the individual participants. The WWP admin team does not provide contact information beyond what has been made public by the participants on their profile pages. Levels of permission for use of material on this site conforms to the Creative Commons licensing standard.
The World Wide Panorama
VRMag - issue 31 Olympic Games Beijing Gisele Bünchen Iphone 3G Rio Tahiti Polynesia Megaliths Cracow PangeaVR New York Rubik Cube Munich Falkirk Wheel Multimedia Postcard Panobrella Panoramalampe ... in Fullscreen QT Flash Panoramas Virtual Tours
ArounderMag ArounderMag is a VRWAY Communication publication available for iPad which enables its readers to interactively travel around the most beautiful destinations in the world. Our editorial team will regularly offer you a "best of" a destination has to offer. The virtual magazine proposes a combination of interactive panoramic images and services (reportage and interviews) to show what a locality is really like. Much more than a "simple" tourist guide, it is a brand new way to discover the world. Key features: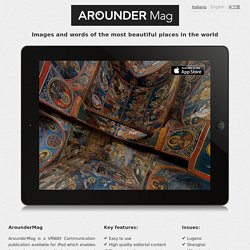 Editors' Picks Check out our newest extraordinary panoramas, hand-picked by our staff and published by the best photographers in the world every day on 360Cities. Take a look...
El Mundo en panorámicas - ViewAt