Sustainability
Marc Gunther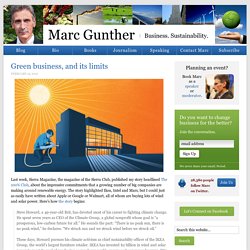 Last week, I attended my first International Consumer Electronics Show in Las Vegas. It's a big deal: 1.8 million square feet of noisy exhibition space inside a gigantic convention center, 3,200 exhibitors, all of them clamoring for attention, and 152,000 attendees, which explains, among other things, why there were about 1,000 people, no exaggeration, on the line waiting for taxis at the airport. All against the backdrop of Vegas. I was there to moderate a panel about conflict minerals for Intel, about which, more below, but I have to say that I was underwhelmed by the rest of the show.
Sustainable UK
Sociovation
Social Leadership, Strategy & Management |
Many people are calling themselves "social media strategist" because they think they understand the use of all things social. The reality is that while "all things social" play into a strategy. By itself social is not a strategy rather it is simply a new methodology for communications. All organizations have a strategy whether defined or not. The problem with undefined strategies is a lack of organized efforts aimed at accomplishing a vision. A vision without a strategy is the lack of assurance that the organizations collective efforts will accomplish anything near a stated vision.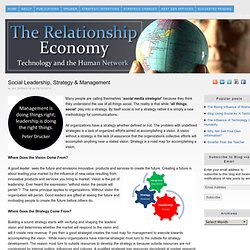 Lets take an exam. How many people using social are useful to you? How many are useless to you? Lets do another exam. How many organizations using social are useful to you?
Social: Useful vs. Useless |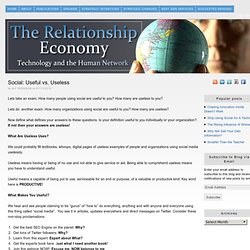 Conscious Ventures
Living a Greener Life at Sustainable Stuff (UK)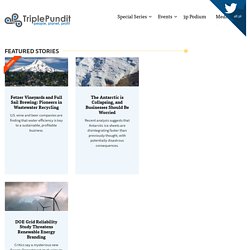 Stanford Start.Home: Sustainable Design That Puts People First In 2002 the U.S. Department of Energy launched the Solar Decathlon, an international college competition where students refine and present their best ideas in solar-powered home design. The Solar Decathlon's interdisciplinary challenge requires students to design, build and operate a cost-effective, energy-efficient home from the drawing board up.
CSR News and Social Media Marketing Tips - Justmeans