Sustainability
Marc Gunther. Sustainable UK. Sociovation. Social Leadership, Strategy & Management | Many people are calling themselves "social media strategist" because they think they understand the use of all things social.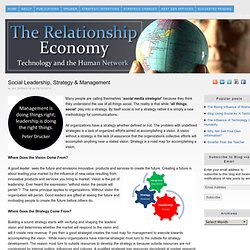 The reality is that while "all things social" play into a strategy. By itself social is not a strategy rather it is simply a new methodology for communications. All organizations have a strategy whether defined or not. The problem with undefined strategies is a lack of organized efforts aimed at accomplishing a vision. A vision without a strategy is the lack of assurance that the organizations collective efforts will accomplish anything near a stated vision. Social: Useful vs. Useless | Lets take an exam.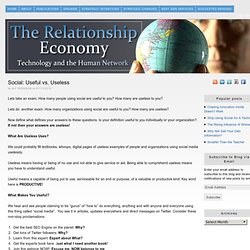 How many people using social are useful to you? How many are useless to you? Lets do another exam. How many organizations using social are useful to you? Conscious Ventures. Living a Greener Life at Sustainable Stuff (UK) Triple Pundit - Green Business News.
CSR News and Social Media Marketing Tips - Justmeans.
---