Tips
How to Makeup - Makeup Tips - Makeup Tutorial - Hair Tutorial : Farah Dhukai. The kitchen spa. Help your skin survive unpredictable weather with these two essential steps: exfoliation and moisturization.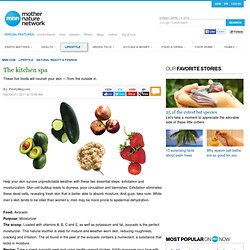 Skin-cell buildup leads to dryness, poor circulation and blemishes. Exfoliation eliminates these dead cells, revealing fresh skin that is better able to absorb moisture. And guys, take note: While men's skin tends to be oilier than women's, men may be more prone to epidermal dehydration. Food: Avocado Purpose: Moisturizer. 12 Items a Lady Should Keep in Her Purse- MotorCity Moxie. Several years ago, I enjoyed purse shopping.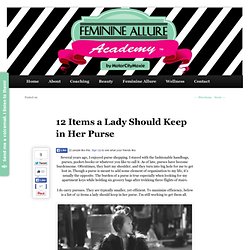 I stayed with the fashionable handbags, purses, pocket-books or whatever you like to call it. As of late, purses have become burdensome. Oftentimes, they hurt my shoulder, and they turn into big hole for me to get lost in. Though a purse is meant to add some element of organization to my life, it's usually the opposite. Dorm Room Spa: 3 Easy DIY Beauty Recipes to Try - College Fashion - StumbleUpon. Photo Credit It's that taxing in-between time of the semester again – spring break is over, papers and projects are coming due, and finals are looming ahead.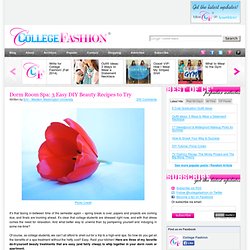 It's clear that college students are stressed right now, and with that stress comes the need for relaxation. How to Correct 8 Common Beauty Mistakes. By Stephanie Abramson Look and feel your best with these easy ways to head off everyday beauty blunders.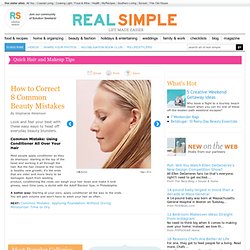 Common Mistake: Using Conditioner All Over Your Hair. 25 Beauty Tips Reusing Household Items – Homemade Beauty Tips on ELLE. 1.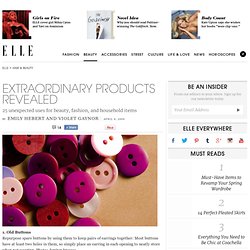 Old Buttons Repurpose spare buttons by using them to keep pairs of earrings together: Most buttons have at least two holes in them, so simply place an earring in each opening to neatly store when not wearing. Photo: Jupiter Images 2. Eyebrow Brush Stuck without a lint-remover? Use this handy makeup tool to remove unwanted fuzz from your shirt. 9 Charmingly Delightful Beauty Techniques from All Over the World &8230;. Beauty techniques are highly beneficial, but some of them are incredibly recycled.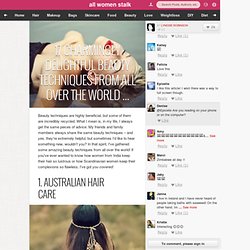 What I mean is, in my life, I always get the same pieces of advice. My friends and family members always share the same beauty techniques – and yes, they're extremely helpful, but sometimes I'd like to hear something new, wouldn't you? In that spirit, I've gathered some amazing beauty techniques from all over the world! If you've ever wanted to know how women from India keep their hair so lustrous or how Scandinavian women keep their complexions so flawless, I've got you covered! Out of the ordinary Beauty Tips that work | Cher Cabulas Mindbox - StumbleUpon. Use toothpaste on yellow nails.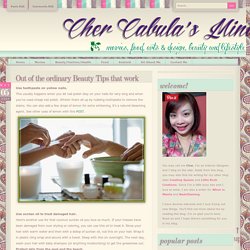 This usually happens when you let nail polish stay on your nails for very long and when you've used cheap nail polish. Whiten them all up by rubbing toothpaste to remove the stains. You can also add a few drops of lemon for extra whitening, it's a natural bleaching agent. See other uses of lemon with this POST. Use suntan oil to treat damaged hair.
---