L'éveil des Consciences
Le destin des Indiens d'Amérique annonçait celui de l'ensemble des habitants de la planète qui assistent impuissants à la destruction de leur environnement, après la confiscation de leur espace et de leurs ressources.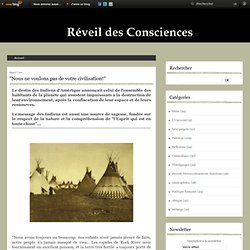 "Nous ne voulons pas de votre civilisation!" - Reveil des Consciences.
(Part 1 of 6) The Nazi Banksters' Crimes Ripple Effect by Muad'Dib
Let Us All Unite!
New Cure For New World Order Control Part 1 TubeTruthers.com!