Parsing
Haskell, 10.12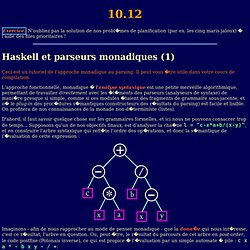 Exercice.
Packrat Parsing: a Practical Linear-Time Algorithm with Backtracking
Abstract Packrat parsing is a novel and practical method for implementing linear-time parsers for grammars defined in Top-Down Parsing Language (TDPL).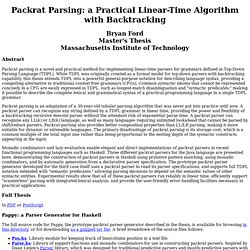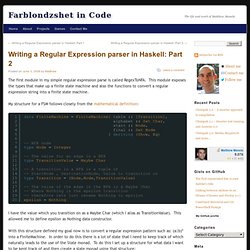 Haskell - Writing a Regular Expression parser in Haskell: Part 2 - Matthew Manela - Farblondzshet in Code
The first module in my simple regular expression parse is called RegexToNFA. This module exposes the types that make up a finite state machine and also the functions to convert a regular expression string into a finite state machine.
interp.pdf (Objet application/pdf)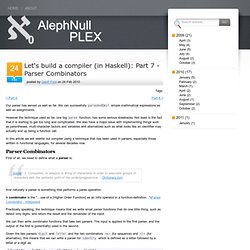 Let's build a compiler (in Haskell): Part 7 - Parser Combinators at AlephNullPlex
Tags: < Part 6
A simple regex engine in Haskell
UPDATE: sorear from #haskell pasted a cool version of this here.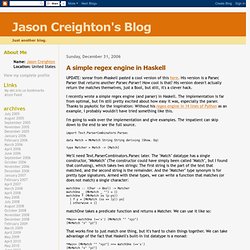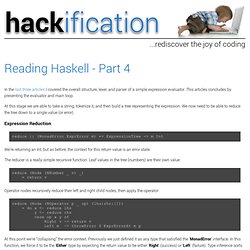 Rediscover the Joy of Coding :: Reading Haskell – Part 4
In the last three articles I covered the overall structure, lexer, and parser of a simple expression evaluator. This articles concludes by presenting the evaluator and main loop. At this stage we are able to take a string, tokenize it, and then build a tree representing the expression.
117337.pdf (Objet application/pdf)
yayfun.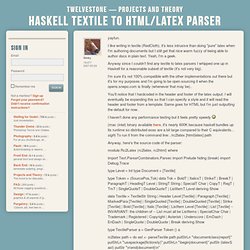 Haskell Textile to HTML/Latex parser
Neil Mitchell - TagSoup
TagSoup is a library for parsing HTML/XML.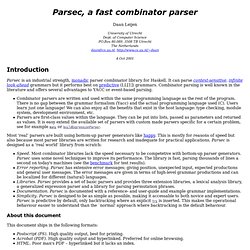 Daan Leijen
Parsec, a fast combinator parser
Parser un format simple en Haskell avec Parsec