0mni
Shanmin Deng
I am a strange young woman.
Pearltrees videos. Help. Feminism. Feministing: Main. Social networks. When You Were Small. Biotech on a Budget. The Three Muskequeers. My love for you is a stampede of horses.: November 2007. If your like me and grew up reading fairy tales, watching disney movies and patiently waiting each year for the wizard of oz to roll around you'll relate and appreciate anne-julie aubry's digital prints and paintings. i am enamored w/ the whimsy in anne-julie's work. her work has two sides; dark and whimsical. both are equally as adorable and very sweet. there is a magical quality to her work that makes me want to visit her subjects in their dark forests and drink tea w/ them and sing w/ the birds. perhaps that's just me, but her paintings really bring me back to being a little girl when i believed the world was full of magic, glitter and ruby red slippers , not a bad place to be really. anne-julie was recently featured as a spotlight artist on illustration mundo, and as one of the 16 female illustrators (along w/ other ladies i love, ali j and catherine campbell, go girls!)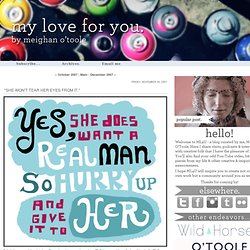 On dominomag.com by blogger holly decker of decor8. Fashion Pirates. Tweets Illustrated.
---