0mni
Shanmin Deng
I am a strange young woman.
Dear Chancellor Folt: A Native American student letter. Compare the NYT Mag's Hillary Clinton cover to their cover images for male politicians. Lori Adorable reviews Remedy. This video about women in the arts is kinda cool, but also ignores that creative things happen outside of the "art world."
Feministing: Main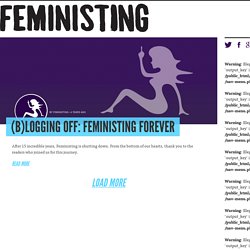 When You Were Small
Biotech on a Budget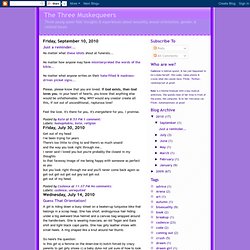 The Three Muskequeers
fuck commitmentphobes. you're not scared to touch me;you're just scared to say you love me.you're just slightly like my father& you wonder why this bugs me? it takes guts to say "i like you"but i do it every day.do you notice? 'course you notice!
if your like me and grew up reading fairy tales, watching disney movies and patiently waiting each year for the wizard of oz to roll around you'll relate and appreciate anne-julie aubry's digital prints and paintings. i am enamored w/ the whimsy in anne-julie's work. her work has two sides; dark and whimsical. both are equally as adorable and very sweet. there is a magical quality to her work that makes me want to visit her subjects in their dark forests and drink tea w/ them and sing w/ the birds. perhaps that's just me, but her paintings really bring me back to being a little girl when i believed the world was full of magic, glitter and ruby red slippers , not a bad place to be really. anne-julie was recently featured as a spotlight artist on illustration mundo, and as one of the 16 female illustrators (along w/ other ladies i love, ali j and catherine campbell, go girls!) on dominomag.com by blogger holly decker of decor8.
my love for you is a stampede of horses.: November 2007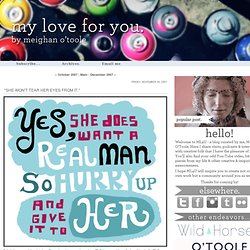 Fashion Pirates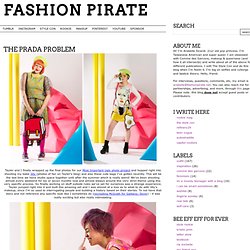 This weekend has been super packed with makeup and brilliant babes -- my skin is crying out for pampering but I think it was totally worth it. I've been trying to be more productive lately, and so there is a few things you can read from me on the internet. I'm really proud of my Chanel SS14 Makeup Tutorial on Rookie. I also did a quick nail post for Capitol Couture (the Hunger Games Online Magazine), too. Those over the top makeup looks are my favorite to do -- I ended up spending the rest of that day with that makeup on and I think it looked fabulous huhuhu.
Tweets Illustrated