Speed
How to run faster - speed training exercises. Improve speed in football, baseball, soccer, basketball. On this site you will discover how to condition your muscles for speed and quickness like you have never experienced before.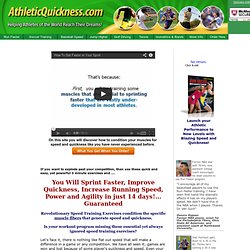 If you want to explode past your competition, then use these quick and easy, yet powerful 3 minute exercises and .... Let's face it, there is nothing like flat out speed that will make a difference in a game or any competition. We have all seen it; games are won and lost because of some player's quickness and speed. Even your athletic career will be affected by how fast you are. Wall Drills for Explosive Acceleration. Drills for Skills - Speed, Agility, Quickness; W Drill. Speed agility training. Hip Flexor Stretch - Speed & Agility Training - Gabriele Fitness. Speed training | Foot speed | Hip Flexor strength. Football players get faster using speed and agility resistance training. 7 Steps to Running Faster for Any Sport. Speed Training Workouts (Jump Out The Gym) Speed Training | Sprint Speed | Run Faster. Workout routine to improve leg speed and explosiveness. Power and Speed Training.
Speed And Agility Drills... The First 5 Yards Are In Your Head! These speed and agility drills are designed to improve your speed off the mark and acceleration.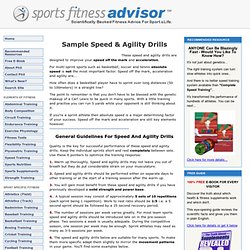 For multi-sprint sports such as basketball, soccer and tennis absolute speed is not the most important factor. Speed off the mark, acceleration and agility are... Speed Training Workout.
---