#SocNW-#Apps - 02myItecManual01
#Diaspora - 02mycollect06_02
Blog » Blog Archive » Major Upgrades Underway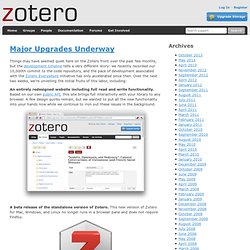 Things may have seemed quiet here on the Zotero front over the past few months, but the development timeline tells a very different story: we recently recorded our 10,000th commit to the code repository, and the pace of development associated with the Zotero Everywhere initiative has only accelerated since then. Over the next two weeks, we're unveiling the initial fruits of this labor, including:
Finding the Best Programmer's Font || kuro5hin.org
Finding the Best Programmer's Font || kuro5hin.org
tag #software - oAnth-miscellaneous
Ghostery | Detect - Learn - Control
Ghostery :: Reviews
HTTPS Everywhere Launches, Aims to Better Secure the Internet [for FF & SeaMonkey] 2011-07-05 | offene Ablage: nothing to hide | oAnth-miscellaneous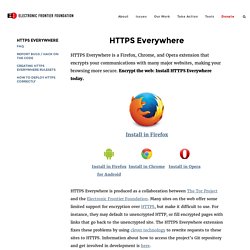 HTTPS Everywhere is a Firefox, Chrome, and Opera extension that encrypts your communications with many major websites, making your browsing more secure. Encrypt the web: Install HTTPS Everywhere today. HTTPS Everywhere is produced as a collaboration between The Tor Project and the Electronic Frontier Foundation.
BrowserID Demo - Mozilla All Hands - 2011 Q3
oAnth
Identity at Mozilla
Old Readability Bookmarklet
Readability - An Arc90 Lab Experiment
Clean reading: Readability add-on for Firefox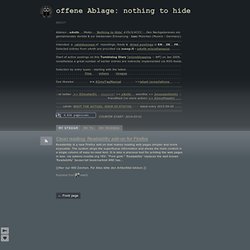 Readability is a new Firefox add-on that makes reading web pages simpler and more enjoyable. The system strips the superfluous information and shows the main content in a single column of easy-to-read text.