#SocNW-#Apps - 02myItecManual01
Help.
Pearltrees videos
#Diaspora - 02mycollect06_02. Blog » Blog Archive » Major Upgrades Underway. Things may have seemed quiet here on the Zotero front over the past few months, but the development timeline tells a very different story: we recently recorded our 10,000th commit to the code repository, and the pace of development associated with the Zotero Everywhere initiative has only accelerated since then.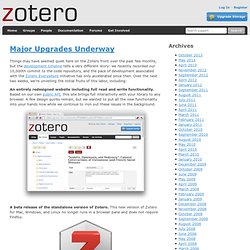 Over the next two weeks, we're unveiling the initial fruits of this labor, including: An entirely redesigned website including full read and write functionality. Based on our own public API, this site brings full interactivity with your library to any browser. A few design quirks remain, but we wanted to put all the new functionality into your hands now while we continue to iron out these issues in the background. A beta release of the standalone version of Zotero. Finding the Best Programmer's Font || kuro5hin.org. Finding the Best Programmer's Font || kuro5hin.org. Tag #software - oAnth-miscellaneous. Ghostery | Detect - Learn - Control. Ghostery. Ghostery. HTTPS Everywhere Launches, Aims to Better Secure the Internet [for FF & SeaMonkey] 2011-07-05 | offene Ablage: nothing to hide | oAnth-miscellaneous.
HTTPS Everywhere. HTTPS Everywhere is produced as a collaboration between The Tor Project and the Electronic Frontier Foundation.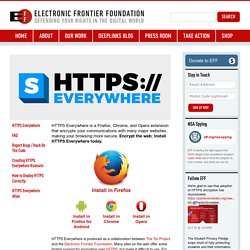 Many sites on the web offer some limited support for encryption over HTTPS, but make it difficult to use. For instance, they may default to unencrypted HTTP, or fill encrypted pages with links that go back to the unencrypted site. The HTTPS Everywhere extension fixes these problems by using a clever technology to rewrite requests to these sites to HTTPS. Information about how to access the project's Git repository and get involved in development is here. Webmasters and prospective contributors: Check the HTTPS Everywhere Atlas to quickly see how existing HTTPS Everywhere rules affect sites you care about!
BrowserID Demo - Mozilla All Hands - 2011 Q3. oAnth. Identity at Mozilla. Old Readability Bookmarklet. Readability - An Arc90 Lab Experiment. Clean reading: Readability add-on for Firefox. Readability is a new Firefox add-on that makes reading web pages simpler and more enjoyable.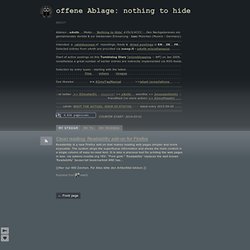 The system strips the superfluous information and shows the main content in a single column of easy-to-read text. It is also a precious tool for printing the web pages in less. via addons.mozilla.org YES: "Pure gold. " 'Readability' replaces the well known 'Readability' Javascript bookmarklet AND has... [[Hier nur 400 Zeichen. Für Alles bitte den Artikeltitel klicken.]]
---