Motherhood
Parenting Articles. Stop spanking and build a healthy discipline strategy both you and your child will feel good about.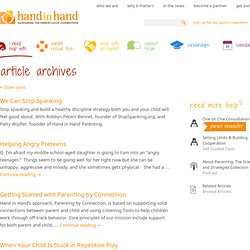 With Robbyn Peters Bennet, founder of StopSpanking,org, and Patty Wipfler, founder of Hand in Hand Parenting. Q. I'm afraid my middle-school-aged daughter is going to turn into an "angry teenager." Things seem to be going well for her right now but she can be unhappy, aggressive and moody, and she sometimes gets physical. She had a … Continue reading. 106 Excuses That Prevent You From Ever Becoming Great.
The following is a rare guest post, this time coming from Tommy Walker.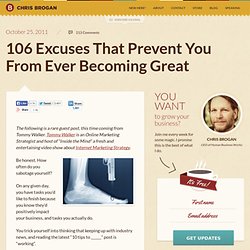 Tommy Walker is an Online Marketing Strategist and host of "Inside the Mind" a fresh and entertaining video show about Internet Marketing Strategy. Be honest. How often do you sabotage yourself? On any given day, you have tasks you'd like to finish because you know they'd positively impact your business, and tasks you actually do. Scary Mommy: An honest look at motherhood — A Mommy Blog written by Jill Smokler, a Baltimore mother with three young children.
---