Tatting
Tatting Patterns by Jane Eborall
Elizabeth's Lace
Chiacchierino della nonna
Free Tatting Patterns and Projects, How To Tatting Guides, Charts and More at AllCrafts!
[home] [gallery] [patterns] [how to tat lace] [shop] [tatty links] [contact] Below are the motif patterns I have available. The patterns in this section are FREE and are for personal use only. Just click on the desired icon to see a larger picture and to get the pattern. The patterns are in Adobe Acrobat PDF format. If you do not haveAdobe Acrobat Reader, it is a free download.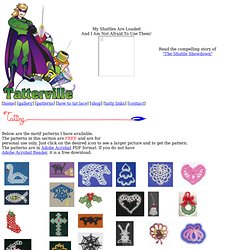 Tatted Motifs
Tatting by Wendy - Doilies
This 'n' Tat - Pattern Library and Archive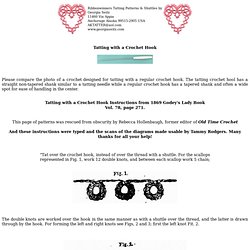 Tatting with a Crochet Hook Please compare the photo of a crochet designed for tatting with a regular crochet hook. The tatting crochet hool has a straight non-tapered shank similar to a tatting needle while a regular crochet hook has a tapered shank and often a wide spot for ease of handling in the center. Tatting with a Crochet Hook Instructions from 1869 Godey's Lady Book Vol. 78, page 271.
Patterns Jane Eborall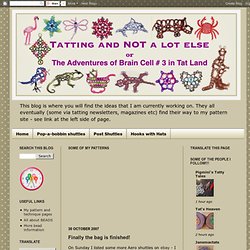 Tatting & nothin' else
Yup, well known for it too!!! It's something that Nick and I have in common - a love of bags! Not posh bags, expensive bags, but downright useful bags!! Wherever we are we seem to be drawn to bags. We buy bags and then find that the 'new and REALLY useful' one that seemed like our dreams come true in the shop turns out to be flipping useless!!!
Needle Tatting - Home
Tatting Web Index
This index provides access to tatting images, patterns, techniques, groups, and people located on the World Wide Web. Specific tatting patterns will only be found in the Patterns listing. Likewise, information on specific tatting techniques and design elements are located under Techniques. Use the numbers after the term to link to the pages containing the desired information. The number assigned to a site is used merely for convenience and does not reflect the value of information located at that site. Top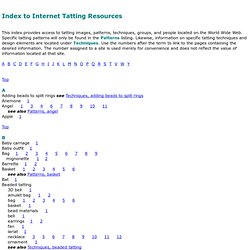 Simple and quick! I took the pink butterfly and some of my other tatted bookmarks and jewelry to the consignment boutique where I sell some of my work. The shop owner, (who loves my tatting) didn't want to carry bookmarks at first -- "I've had other bookmarks here, and they just sit..." but couldn't resist keeping just a few of mine at the shop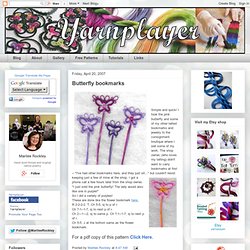 Butterfly bookmarks
Tatting Abbrev.
Guest Author - Beverly Elrod Keep in mind that abbreviations, like clothing, is always in a cycle. Some things never change and others are continually being changed, added or deleted (become obsolete).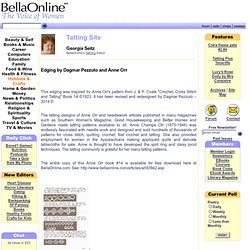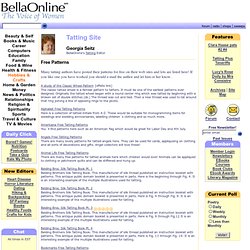 Bella Patterns
Free Patterns Many tatting authors have posted their patterns for free on their web sites and lots are listed here! If you like one you have worked you should e-mail the author and let him or her know. A study of the Classic Wheel Pattern