Cooking
Bread Bakers Forum Front Page. Allrecipes.com - the top web site for recipes, food and cooking tips. Make Your Own Mixes. Cost Per Serving Calculator, How Much Does Meat Cost. Figuring the price per serving can be tricky if you don't know how many servings you get from various pieces of meat.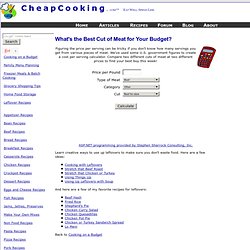 We've used some U.S. government figures to create a cost per serving calculator. Compare two different cuts of meat at two different prices to find your best buy this week! ASP.NET programming provided by Stephen Sharrock Consulting, Inc. Learn creative ways to use up leftovers to make sure you don't waste food. Crockpot Recipes - More than 1400 Crockpot Recipes for the Crock Pot or Slow Cooker. Crockpot sauce recipes. Would you like to make this site your homepage?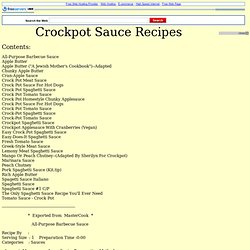 It's fast and easy... Yes, Please make this my home page! Don't show this to me again. Recipes for Gifts and Goodies from the Kitchen. If you've never made cinnamon dough ornaments, you won't believe how easy they are to make.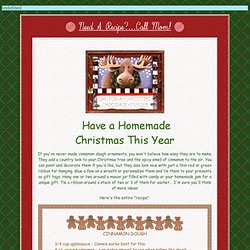 They add a country look to your Christmas tree and the spicy smell of cinnamon to the air. You can paint and decorate them if you'd like, but they also look nice with just a thin red or green ribbon for hanging. Glue a few on a wreath or personalize them and tie them to your presents as gift tags. Jar recipes | mix recipes | mix in a jar recipes | canning recipes | preserving recipes. Meals For You - Thousands Of Delicious Recipes And Meals. Your Source for Recipes on the Internet. Robbie's Recipe Collection: Cheddar Bay Biscuits like Red Lobster's® Stevia Free Recipes, stevia sweetner, recipes stevia, stevia extract, cooking with stevia. Thank you for your purchase of Stevia Brands products.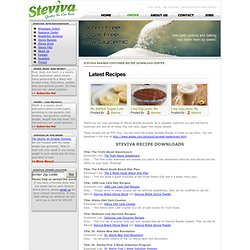 As a valuable customer you are entitled to download any and all of these fine low carb, sugar free recipe ebooks. These recipes are all PDF files. You will need the Adobe Acrobat Reader in order to use them. Recipes: Dinner, Cakes, Easy Recipes 100000 recipes by home cooks like you. Recipes NOUN: A set of directions with a list of ingredients for making or preparing something, especially food.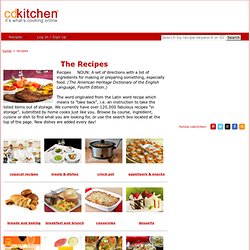 (The American Heritage Dictionary of the English Language, Fourth Edition.) The word originated from the Latin word recipe which means to "take back", i.e. an instruction to take the listed items out of storage. We currently have over 120,000 fabulous recipes "in storage", submitted by home cooks just like you.
Whole Foods Market: Natural and Organic Grocery.
---