QR code
QR4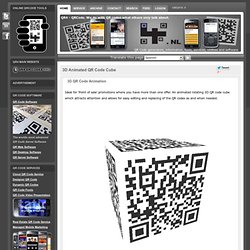 Good looking QR codes have a scan rate at least 4 times higher than normal black and white QR codes. But that's not all, branding QR codes with your company color and logo promotes brand awareness and provides additional and easy exposure to the mobile market. Ch'ing-Wa Sheng He's the mastermind behind the shop. He wanted that everyone should be able to make unique customized QR codes in a fast and easy way. We gave him our QR code generator, pots of paint, a roller and some brushes and asked him to show us what exactly he had in mind.
miniQR
URL 2 Tag
Please Note: Will only work on iPhone and Android devices that have the Skype app installed. 0 chars (max 160) Select your Contact Details QR code type: vCard Format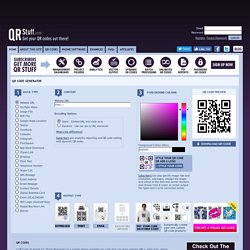 Генератор QR кода
Генератор QR кодов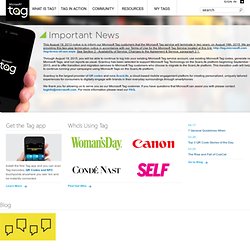 This August 19, 2013 notice is to inform our Microsoft Tag customers that the Microsoft Tag service will terminate in two years, on August 19th, 2015. We are providing this two-year termination notice in accordance with our Terms of Use for the Microsoft Tag Service located at this link:http://tag.microsoft.com/tag-terms-of-use.aspx. See Section 2 - Availability of Service; Changes to the Agreement & Service, paragraph 2.1. Through August 19, 2015, you will be able to continue to log into your existing Microsoft Tag service account, use existing Microsoft Tag codes, generate new Microsoft Tags, and run reports as usual. Scanbuy has been selected to support Microsoft Tag Technology on the ScanLife platform beginning September 18th, 2013, and to offer transition and migration services to Microsoft Tag customers who choose to migrate to the ScanLife platform.
What is a QR code? A QR code is a two-dimensional code (2D code, matrix code), this means it contains data not only in one dimension (e.g. horizontally from left to right like the barcodes on the products in e.g. your grocery store) but also in a second dimension (vertical and horizontal). The acronym QR is short for "Quick Response". QR codes are also often called 2D barcodes. However, this notation is not correct, because it means "a two-dimensional code consisting of bars" although a QR code consists of pixels (so-called "modules") instead of bars. The QR code was invented by the automotive industry.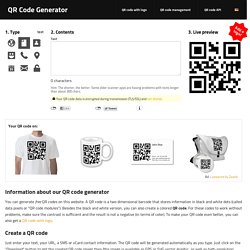 QRCoder.ru
ı-nıgma
QuıckMark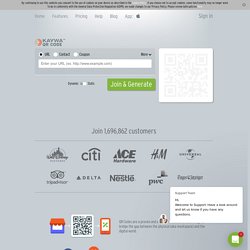 Choose Coupon Type step 1 of 2Online Coupon (for your web shop)step 2 of 2In Store Coupon step 2 of 2 Sign Up & Continue * Please select prefered coupon type !