Medıa Playerz
UMPlayer | Universal Media Player - Nightly. Clementine Music Player. Final Media Player. XBMC. Click on the icons below to download your preferred platform installer.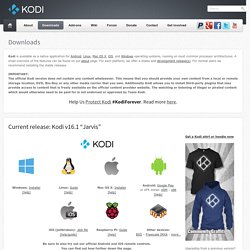 You can find quick start guides on the WIKI.Note: Don't forget to read our development blog posts. We are always happy to receive a donation by which you show your support and appreciation. All donations go towards the not-for-profit foundation and are typically used for travel to attend conferences, any necessary paperwork and legal fees, purchase necessary hardware and licenses for developers and hopefully the yearly XBMC Developers Conference. Monthly builds are semi-stable nightly snapshots of the current development version. They are a step between (often) unstable nightly builds and stable release builds, though they can sometimes still be very unstable depending on various factors.
Foobar2000. Mıro. Moovıda. VLC. DıvX. RealPlayer. Wınamp.
---
axeltwin Feb 8 2013

Friendly advice:

---