Medıa Playerz
Advanced yet Simple to use UMPlayer comes packed with dozens of advanced features, such as skinnable interface, built-in subtitles search, audio / subtitles sync, enhanced filter rendering and YouTube™ player / recorder, yet has a simple and intuitive user interface that was designed for ease of use. Cross-Platform UMPlayer is written under the Qt platform and is available for Microsoft Windows, Apple Mac OS/X, and GNU/Linux opertaing systems. Screenshots Built-in Codecs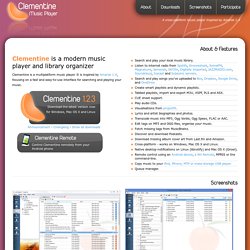 Search and play your local music library. Listen to internet radio from Spotify, Grooveshark, Last.fm, SomaFM, Magnatune, Jamendo, SKY.fm, Digitally Imported, JAZZRADIO.com, Soundcloud, Icecast and Subsonic servers. Search and play songs you've uploaded to Box, Dropbox, Google Drive, Skydrive and Ubuntu One. Create smart playlists and dynamic playlists. Tabbed playlists, import and export M3U, XSPF, PLS and ASX.
Get Final Media Player if you are tired of messing with codecs or tired of seeing the dreaded "Windows cannot open this file" error message. Download and install Final Media Player and you will be able to play video files like 3GP, ASF, AVI, AVM, AVS, DAT, FLV, IFO, MKV, MOV, MP4, MPEG, MPG, NSV, OGM, RM, RMVB, TP, TS, VOB, WMV and play sound and music files like AAC, AC3, APE, DTS, FLAC, M4A, MKA, MP2, MP3, MPA, MPC, OFR, OGG, RA, TTA, WAV and WMA. Final Media Player is a free non-bloated, simple video and audio player and it will play almost any audio or video file you throw at it. Everything is included with the installer. Simply download and run it and you will be able to play your video and audio files right away. Oh.. and it's true: It is 100% free.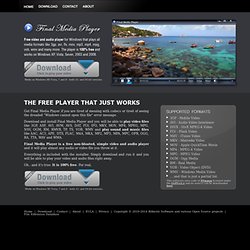 Final Media Player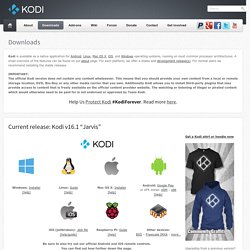 Click on the icons below to download your preferred platform installer. You can find quick start guides on the WIKI.Note: Don't forget to read our development blog posts. We are always happy to receive a donation by which you show your support and appreciation. All donations go towards the not-for-profit foundation and are typically used for travel to attend conferences, any necessary paperwork and legal fees, purchase necessary hardware and licenses for developers and hopefully the yearly XBMC Developers Conference. Monthly builds are semi-stable nightly snapshots of the current development version. They are a step between (often) unstable nightly builds and stable release builds, though they can sometimes still be very unstable depending on various factors.
foobar2000 is an advanced freeware audio player for the Windows platform. Latest news First, a big thank you to everyone who supported the foobar2000 mobile project so far. The foobar2000 mobile entry has been removed from kickstarter.com due to low popularity - only about 0.1% of the visitors actually supporting the project rather than the 1% we were hoping for; at this rate, donations made via kickstarter.com would never reach us as the lowest goal would not be hit. You can still support the project via our page directly - mobile.foobar2000.com.
What Makes Miro So Amazing? Device Makers, Music Stores, Cloud Services why you need Miro and how to partner with us Works with your current music library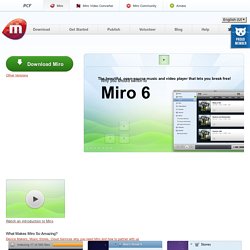 Moovıda
Download now Requirements: Windows XP, Vista, Windows 7, N versions more info >> Moovida is your one stop for multimedia needs, organizing and reproducing all your media from 1 intuitive application. Moovida supports ALL media formats - it's the only software you'll ever need to play avi, mkv, mp3, mp4, and many more! Optimized for the Vision technology from AMD, Moovida Universe offers a completely unique and interactive way of rediscovering your media.