Gamez
UemeU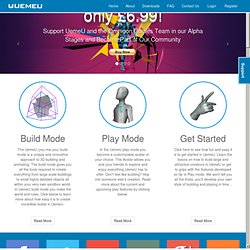 We feel having your own creative space is important. Right from the beginning of UemeU our mission was to deliver a game with a large open space that you could make your very own. UemeU gives you the ability to build detailed creations in a vast, open world, sandbox environment either on your own or with your friends. The options are endless, re-create architecture, rework iconic structures and characters, or build your own platform game in a creative abstract world where the laws of physics don't apply. This is your space, your rules.
Loadout!
Xsolla
Добро пожаловать
GFACE
mail.ru
Фогейм
PlanetSide 2
APB Reloaded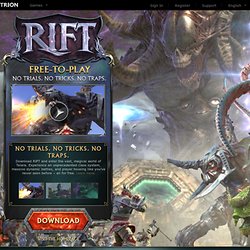 RIFT
© 2014 Trion Worlds, Inc. Trion, Trion Worlds, RIFT, Storm Legion, Telara, and their respective logos, are trademarks or registered trademarks of Trion Worlds, Inc. in the U.S. and other countries. The ratings icon is a registered trademark of the Entertainment Software Association. All other trademarks and logos belong to their respective owners.
GameStick
Hello GameStick! Portable, Dynamic, Revolutionary: GameStick delivers an all-new big screen gaming experience. Play your favorite Android games in full HD and rediscover your love of play! Pre-order NOW! Our Micro-Console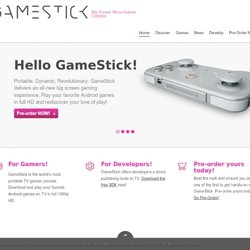 The latest Novus AEterno will be going live in a few hours! At this point in time we are busy testing everything we can possible get our hands on to make sure all the new elements within this build are working correctly. We will be needing your help with the testing process. All infiltrators with access to the game are … More…
Novus Aeterno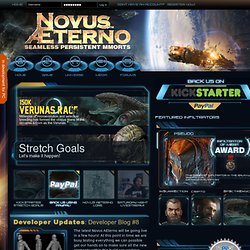 Planetary Annihilation
Colonize solar systems, smash entire worlds, and obliterate your foes in epic battles with multiple players and potentially thousands of units. Planetary Annihilation is a next-generation RTS that takes the genre to a planetary scale. Mine planets and entire asteroid belts to expand your economy, colonize worlds, and launch planet-destroying weapons at your enemies.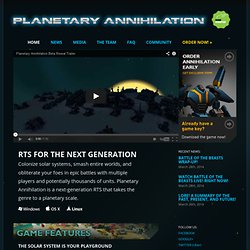 Endless Space
Trion Worlds, Inc.
Trion Worlds is a leading publisher and developer of premium games for the connected era. Powered by a breakthrough development and publishing platform, Trion is revolutionizing the way games are developed, played and sold. Trion's top-notch team delivers high-quality, dynamic, and massively social games operated as live services across the biggest game genres and devices, including the critically acclaimed blockbuster, Rift®, and the groundbreaking trans-media crossover Defiance™.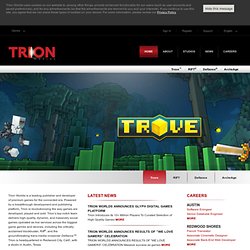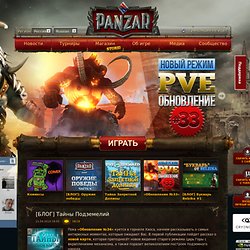 Panzar Studio продолжает преподносить оригинальные новогодние подарки. Только что мы порадовали всех любителей изящной словесности, а сейчас настало время поднять настроение поклонникам изобразительных искусств. Мы объявляем АРТ-КОНКУРС «МОРОЗНЫЕ УЗОРЫ»! Тема не самая простая, но весьма злободневная: "PANZAR и зима". Снег, бураны, Ледяные Ведьмы, увешанные черепами врагов Деды Морозы, раздающие подарки оркам - все, что сможет представить себе ваша фантазия.
Panzar
BattleForge
End of Nations
Welcome back, again. The Ages of Uru are available again. We've opened all the Ages, and added most of the goodies in MO:UL. We're referring to it as MO:ULagain—feel free to explore and enjoy. And the cost is pretty good.
Myst Online: Uru Live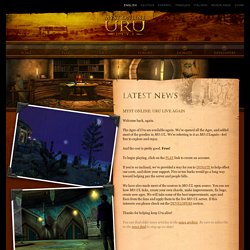 $100k has been raised for the next stage of development. From the 15th of January we will begin full-power development. Still, we won't have a big team, but it will be enough to finish the evolution from the old game and old engine to Torque3D.
Aftrwrld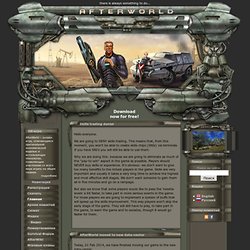 Entropia Universe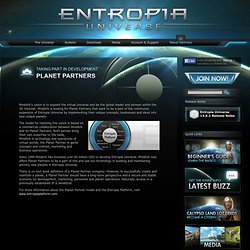 The model for realizing this vision is based on a commercial collaboration between MindArk and its Planet Partners. Both parties bring their own expertise to the table, MindArk in technology and operations of virtual worlds, the Planet Partner in game concepts and content, marketing and business operations. Since 1999 MindArk has invested over 60 million USD to develop Entropia Universe.
2013 Retrospective and What's Next Monday, January 20, 20141:58 AM It's that time of the year again - time for our annual retrospective! Last year was a very productive one for us. It kicked off with Flavien quitting his job to work on I-Novae full-time.
Welcome and thank you for your interest in Face of Mankind: Fall of the Dominion! We would like to thank you for your interest in assisting with the Beta phases of the game, however, with Open Beta coming up soon we have closed applications. The final wave of accepted applicants will recieve an email tonight. We do hope to see you in the Open Beta, but until then you may browse our fourms.
FoM
Try EVE for free Try EVE for free You can also buy EVE now One Universe to explore and conquer