Gamez
Loadout!
Firefall
Xsolla
Добро пожаловать
GFACE
mail.ru
Фогейм
PlanetSide 2
APB Reloaded
RIFT
GameStick
Novus Aeterno
Planetary Annihilation
Endless Space
Trion Worlds, Inc.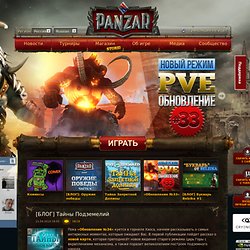 2013-06-17 16:38 Друзья! Завершился четвертый турнирный сезон. Пока участники Лиг наслаждаются заслуженным отдыхом в межсезонье, пришло время вам решить судьбу того, кто получит прекрасные призы от нашего спонсора Corsair . Напоминаем, что каждая команда Золотой Лиги выдвинула одного из своих игроков, но лишь единственный сможет стать «Народным Героем» четвертого сезона: «NEXT» – "Lohka", «Mordlust» – "Вованка", «Пушистые Шмели» - "-Валера-", «Избранные» - "Танго Смерти", «Перерожденные» - "Фитида", «SDP2» – "Dagon", «Big Band» – "SVOL ver.FREEZ", «Мародеры» - "Беленькая". Кому, как не вам, следившим за всех их подвигами в течение всего сезона, теперь решать их судьбу?
Panzar
BattleForge
End of Nations
Myst Online: Uru Live
AfterWorld: Survival обновлен до версии C216 , и много поменялось относительно того, как работает PvP. Еще со времен "Alpha", в AfterWorld было всего два уровня ПвП - можно убивать, и нельзя. Теперь, система ПвП сильно изменена , так что будьте готовы!
Aftrwrld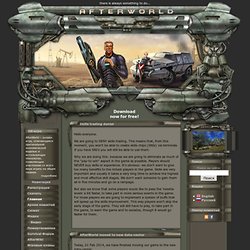 Entropia Universe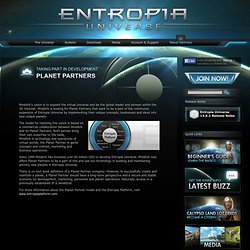 The model for realizing this vision is based on a commercial collaboration between MindArk and its Planet Partners. Both parties bring their own expertise to the table, MindArk in technology and operations of virtual worlds, the Planet Partner in game concepts and content, marketing and business operations. Since 1999 MindArk has invested over 60 million USD to develop Entropia Universe.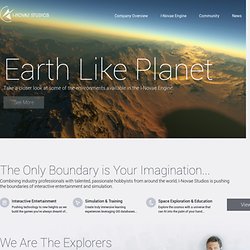 Welcome to Infinity . Infinity is a massively multiplayer online game set in a persistent futuristic universe, currently in development. Infinity features an advanced procedural engine allowing for a seemingly infinite galaxy of unique star systems and planets to discover and explore, including seamless planetary landing. Infinity offers new and existing players an extensive storyline following the complex and often intricate political and social interactions of hundreds of corporations, organizations, and reputation groups through the games three primary factions: the Centauran, the Deltan Federation, and the Star Fold Confederacy. Infinity employs an open-ended world design, in which a player can control everything from a small shuttle to massive military dreadnaught, a single mining operation to an entire vast corporate empire, all without having to change characters.
Infinity
FoM
P4F